website  watertownhistory.org
    ebook  History of Watertown, Wisconsin
Geschke Hardware
115 South Second St
1866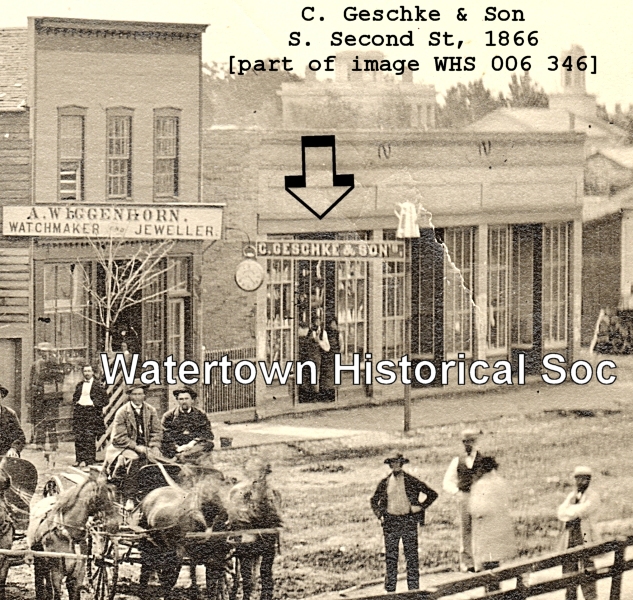 Geschke & Co, Charles Geschke, 1866, 115 S Second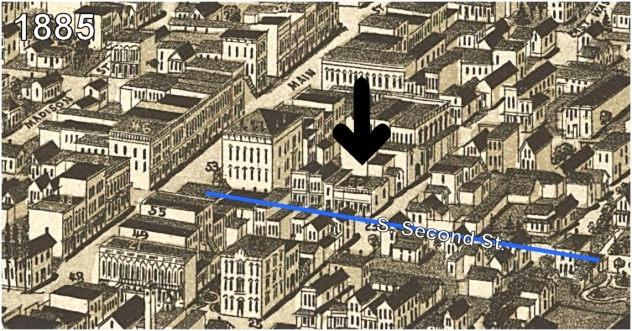 Richard Geschke (son of Charles)
1848 - 1923
Geschke Hardware: 115 S Second St
Residence at 301 Sixth St.
Richard Geschke, dealer in stoves, hardware, tinware, etc.; was born in Prussia March 9, 1848; the son of Charles Geschke, who came to America with his family and located in Texas in 1853; resided there until 1861, then returned to Germany and remained until 1865, when they came to Watertown. 
Charles Geschke died here in April, 1874; his widow survived him. 
Richard Geschke has carried on business here since 1862, associated with his father and also with his brother Edward, until the death of the latter; Richard then conducted the business alone. 
<![if !vml]>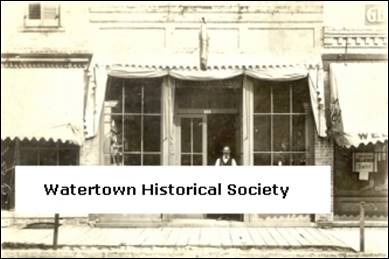 <![endif]>   <![if !vml]>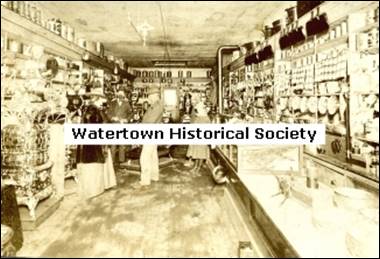 <![endif]>
WHS_005_997      and      WHS_005_998
<![if !vml]>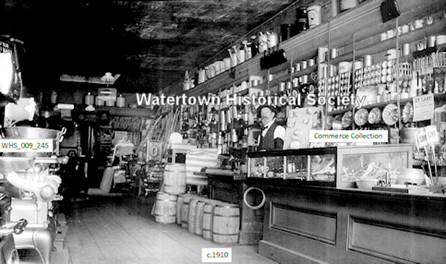 <![endif]>
click to enlarge
On March 4, 1872, he was married, in Watertown, to Ida Eckhoff, daughter of Ludwig Eckhoff.  She was born in Watertown.  They had two children. 
Mr. and Mrs. Richard Geschke were members of the German Evangelical Lutheran Church.  Buried in Oak Hill Cemetery.
1923
03 08       RICHARD GESCHKE CALLED TO HIS FINAL REWARD
Richard Geschke, one of Watertown's oldest and best known business men, died last Monday at his home, 301 Sixth Street.  He had been in poor health several months and for three weeks past was confined to his home.  March 9, 1848, he was born in Stratsmud, Germany, and in 1865 came to Watertown with his parents, and he has resided here ever since.  Shortly after locating here he and his two brothers and his father opened a hardware store in Second Street, to which he succeeded and conducted till about four years ago.  His wife and one son and two daughters survive him, his children being Carl Geschke of Berkeley, California, Mrs. Frank Bliefernicht of Berlin and Mrs. Herman Marquardt of this city.  Mr. Geschke has always during his long residence here enjoyed the esteem and good will of his fellow citizens and all regret his death very much.   WG
_____________________________________________________________________________
The Richard Geschke Family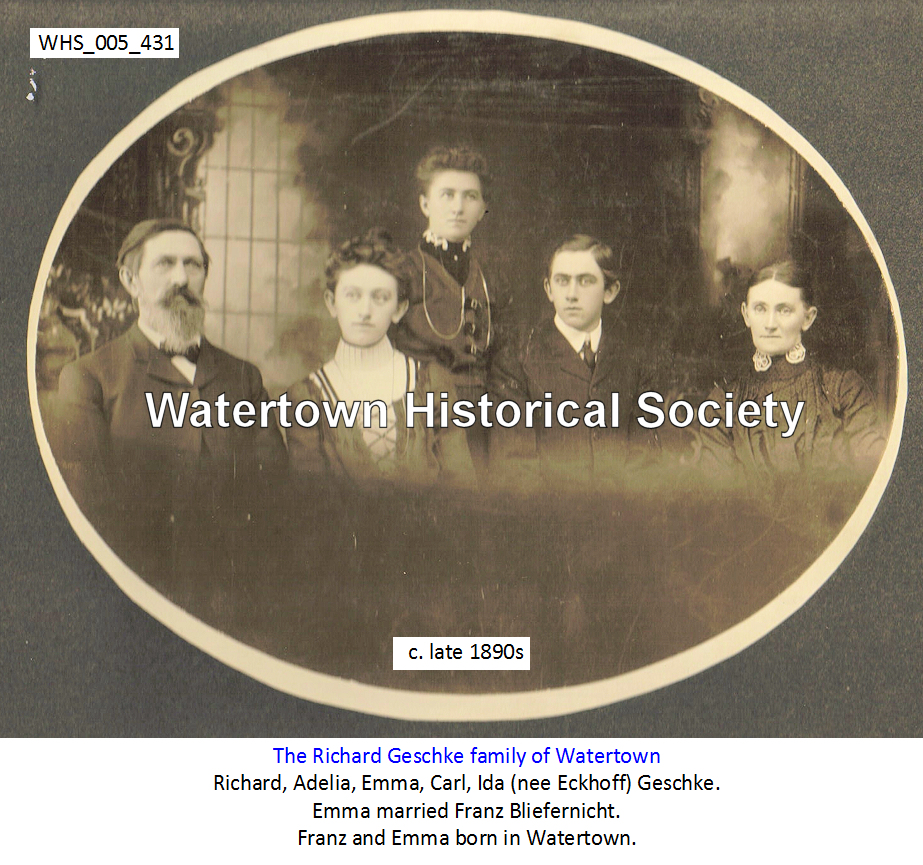 The Richard Geschke family of Watertown       click to enlarge
Richard, Adelia, Emma, Carl, Ida (nee Eckhoff) Geschke.
Emma married Franz Bliefernicht.
Franz and Emma born in Watertown.
Photo dated 1890s.
Cross-References:
115 S Second became home of Plattdeutscher Verein
Geschke burials in Oak Hill cemetery:
Geschke, A. W., b. 1854, d. 1949
Geschke, Adela H., b. 1871, d. 1874
Geschke, Arnold, b. 1893, d. 1967
Geschke, Carl A., b. 1876, d.
Geschke, Carl, b. 1813, d. 1874   (Charles)
Geschke, Dora M., b. 1869, d. 1955
Geschke, Dorothea, b. 1813, d. 1889
Geschke, Edward, b. 1839, d. 1877
Geschke, Elias, b. 1841, d. 1904
Geschke, Elmer, b. 1903, d. 1913
Geschke, Father, b. 1859, d. 1943
Geschke, Ida, b. 1852, d. 1931
Geschke, Laura, b. 1892, d. 1933
Geschke, Mother, b. 1862, d. 1916
Geschke, Richard, b. 1848, d. 1923
<![if !vml]>

<![endif]>
History of Watertown, Wisconsin