website  watertownhistory.org
 ebook  History of Watertown, Wisconsin
     Also part of History of Watertown Fire Dept
Brad Fox
02 28 2008
<![if !vml]>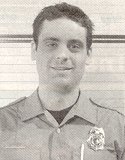 <![endif]>Fox Joins Local Fire Department
Brad Fox has joined the Watertown Fire Department as a firefighter/paramedic.
He replaces Keith Knollenberg, who resigned in January of this year.
Fox graduated from Waupaca High School in 1998 and he received his EMT basic training at Chippewa Valley Technical College in Eau Claire. He also trained to become a nationally registered paramedic in Green Bay at the Northeast Wisconsin Technical College.
Fox attended the fire academy at St. Petersburg College in Florida and served the city of Gulfport in Florida as a firefighter/paramedic for four years before returning to Wisconsin in June 2007.
He currently resides in Brookfield with his wife, Meghan, and their 14-month-old daughter, Laurel.