website  watertownhistory.org
 ebook  History of Watertown, Wisconsin
Also part of History of Watertown Fire Dept
South 10th St House Fire Claims Victim
<![if !vml]>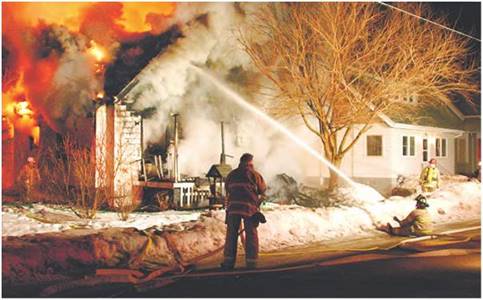 <![endif]>
Watertown Daily Times, 03 10 2008 and 03 11 2008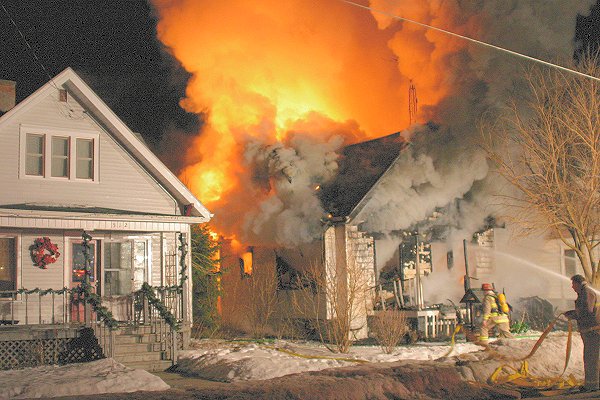 WHS_005_840 Sarah Butts photo
William M. Ottman, 45, who was inside of 508 South Tenth Street when it started on fire early on the Sunday morning of March 9, died because of smoke inhalation and high levels of carbon monoxide. He was identified by the Jefferson County Coroner's Office.
The two-alarm blaze was reported by an on-duty police officer at 12:39 a.m.
An investigation was conducted by the Watertown Police Department, the Wisconsin Division of Criminal Investigation and the state fire marshal.
<![if !vml]>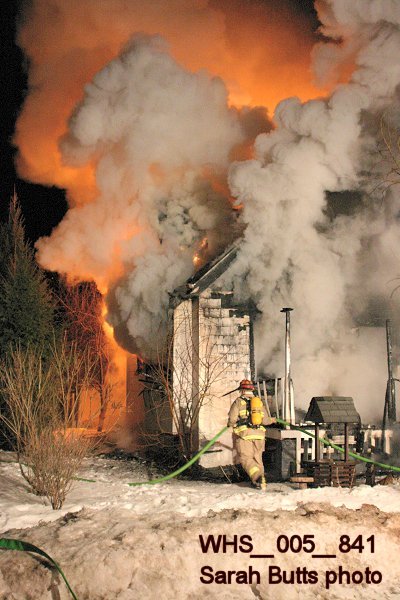 <![endif]>Watertown fire Chief Henry Butts said firefighters were forced to attack the blaze in defense mode upon first arrival because the home was completely engulfed in flames and the front porch was collapsing. He added firefighters were informed shortly after their arrival that a person could have possibly been in the home.
"The porch was collapsing when we got there and part of the west side (of the home) was starting to lean in a little bit so we went into a defensive attack because it was too dangerous to go in," Butts said. "It was non-survivable."
While battling the blaze, firefighters were also faced with the task of preventing the flames from destroying the two homes adjacent to 508 S. Tenth St.
The dwelling at 508 S. Tenth St. was declared a total loss and both of the abutting homes sustained moderate damage to the exterior walls.
It took 30 firefighters about two hours to get the fire under control and approximately 4 1/2 hours to extinguish the flames, Butts said. Mutual aid was provided by fire departments from Ixonia and Lebanon.
The firefighters at the scene did not sustain any injuries. The American Red Cross and neighbors provided coffee to the firefighters.
The cause of the blaze cannot be determined because of the extreme amount of damage done to the residence, which is owned by Wanda Updike. Updike was not at home at the time of the fire.
The fire started on the first level near the front of the house.
It took 30 firefighters from Watertown, Ixonia and Lebanon about two hours to get the fire under control and approximately 4 1/2 hours to extinguish the flames.
At the time of the fire Updike had been employed by Pizza Hut for eight years as a delivery driver.