website  watertownhistory.org
    ebook  History of Watertown, Wisconsin
         File on Watertown Fire Department
 Rico's Pizza Fire
116 W Main
August 7, 2007
<![if !vml]>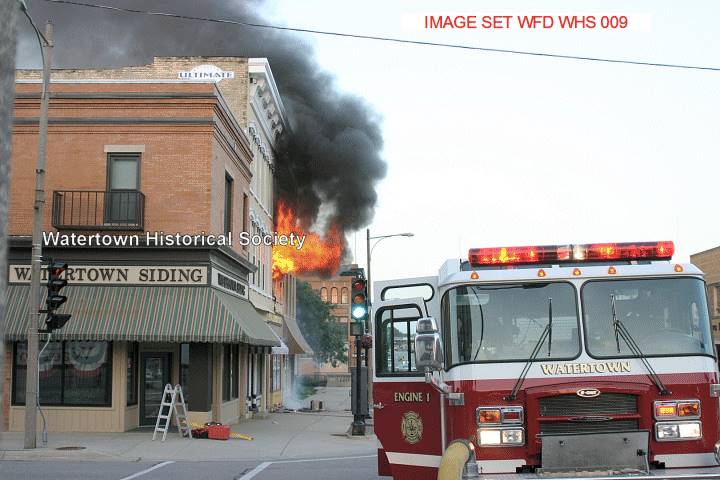 <![endif]>
Firefighters Battle Blaze at Watertown Restaurant
Firefighters battled a fire Tuesday evening, August 7, 2007, in the 100 block of West Main Street in downtown Watertown.  The fire started around 8 p.m. above Rico's Restaurant.  Flames were visible out of the windows of the second floor.  There were initial reports that people might have been trapped in the building but a search found no occupants.  One firefighter suffered minor injuries. He was treated at the scene and then taken to Watertown Memorial Hospital.  The fire was quickly contained.  Ixonia, Lebanon and Johnson Creek fire departments assisted in response to the fire.
A fire that broke out Tuesday in an apartment above Rico's Italian Restaurant on West Main Street caused about $50,000 in damages, according to Watertown fire Chief Henry Butts.  Capt. Tom Killmon of the Watertown Police Department said the fire was caused by an overloaded electrical circuit in a second floor apartment.  Bob Goff, co-owner of Rico's, said he was inside his restaurant when the fire started and that it was brought to his attention when one of his employees smelled something burning.  "I immediately looked in the oven to make sure we hadn't left a pizza in, but of course it wasn't that at all," Goff said.  Two workers who were installing a door between Rico's and Ultimate Realty Co. noticed the fire and were able to notify a woman who was sleeping in a second floor apartment, Goff said.
Slideshow; portfolio of images

  < < Click on 
Watertown Daily Times article [WHS_005_552]
08 14 2007
Editor, Daily Times:
Ultimate Realty would like to extend a great thank you to the two construction workers working after hours installing a door between Ultimate Realty and Rico's Pizza on Aug. 7 that discovered the fire right at the beginning and helped to save the lives of all tenants in both buildings.
Because of their selfless courage to go into the smoke laden building and vigilant attempt to wake a sleeping tenant in the second floor apartment, who regrettably lost two personal pets from the fire, they were able to safely get all tenants out of harm's way from catastrophe.
We offer our sincerest gratitude for the courage of these men for giving of themselves to get everyone out in a timely fashion because the fire swept through the building so rapidly. Thanks again to Jacob Dondlinger and Jay Haret for their valiant work.
We cannot put into words how appreciative all involved are for the dedicated efforts by the Watertown Police and Fire Departments as well as the Ixonia, Lebanon and Johnson Creek departments which provided mutual aid. Their speed and attention to detail contained the fire with the least amount of dam- age possible.
Only because of the community-wide support was the Watertown Fire Department not only able to purchase but show us why we needed their newest fire equipment.
Every attendee is a hero in our hearts.
Ultimate Realty Co., LLC Susan Hutson Schramm, Kristin Schramm and Brian Hollenbeek
Pre and Post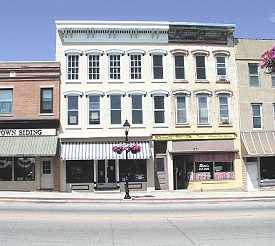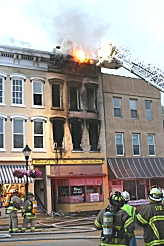 WHS_005_726
                            Three weeks before fire of August 7, 2007
2007
04 27       Two community members are in the process of helping restore a downtown building that was damaged by a blaze earlier this year.  Carol Bohlman and Jim Baade are assisting MarySue Mariani, owner of 116 W. Main St., with the planning for fixing up the three-story structure that caught on fire on Aug. 17.  The fire was caused by an overloaded electrical circuit in a second floor apartment above Rico's Italian Restaurant.  The day after the blaze Watertown fire Chief Henry Butts had estimated the damage at $50,000, but Bohlman said inspectors think the amount is more in the range of $200,000.  Bohlman said she and Baade are helping with the restoration project because Mariani has been ill and working a full-time job, which has prevented her from tending to the building all by herself.
Cross References:
2009
04 27       A rehabilitated apartment at 116 1/2 W. Main St. was damaged by a fire in August of 2007.  Darrell Walsh, owner of 116 W. Main St., received an honorable mention award for Best Upper Story Rehabilitation Project at the annual ceremony. The multistory building was damaged in August of 2007 following a fire.   WDT

History of Watertown, Wisconsin