website  watertownhistory.org
 ebook  History of Watertown, Wisconsin
    Also part of History of Watertown Fire Dept
Watertown Fire Department
Visit of German Students
2010
Guest student hosted by family of Fire Chief
<![if !vml]>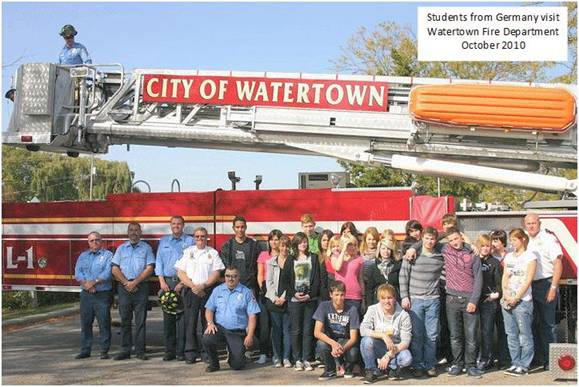 <![endif]>
10 08 2010
Watertown High School students shared a little American culture with a group of students from Germany who are visiting over the next two weeks.
This is the third time the German exchange class has visited Watertown since the partnership began in 2006 with local teacher Tom Rusch.
A total of 20 students and two chaperones from Werratal School in Hessen, Germany, arrived in Watertown.  The chaperones included teacher Sieglinde Wenzel and her son Guido Wenzel.  Since 2006 a class from Werratal School in Germany has come here and the following summer a group of Watertown students travel to their home in Germany.
The German students were each assigned a Watertown student and will stay with their family for two weeks.  Only about six or seven of the Watertown students are studying German, while the rest of the hosts have never taken a German class.
Watertown senior Jake Butts [son of Fire Chief Henry Butts] hosted a student, Dominic  This is Butts' second time hosting a German student.  He also went to Germany to stay with his exchange student two years ago.  They have remained friends and this past summer his German friend, Eike Stotter, came on his own to visit the Butts family for three weeks.
At the fire department, the German students were given a tour and took a ride in the lift of one of the fire trucks. They also tried on the firefighter suits.
<![if !vml]>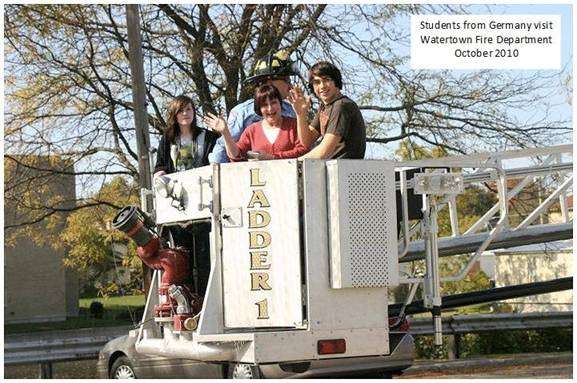 <![endif]>