website† watertownhistory.org
††† ebook† History of Watertown, Wisconsin
Joseph E. Davies Scholarship Program
1951
11 19†††††† Scholarships Announced
Awards to Consist of $2400 for Four Years at U. of W.
Joseph E. Davies, during his visit to Watertown yesterday afternoon, formally announced high school scholarships which he will offer to graduates of the Watertown High School, his alma mater.
He proposed the scholarships some months ago, and while in the city yesterday completed arrangements with school officials.† He went over the details with Roger Holtz, superintendent of schools, and two members of a local committee which he had named some time ago.† The committee members present were Max Rohr and John D. Clifford.† The third member of the committee, Attorney William H. Woodard, was unable to be present.
Under the plan, a JOE DAVIES SCHOLARSHIP will be offered to an outstanding high school graduate for four years.† The scholarship will consist of $600 for each of the four years ó $2,400 in all to the graduate selected.† The scholarship will be for the University of Wisconsin, where Mr. Davies received his law degree.† One scholarship will be awarded each year for a four year period.
Some of the details of the scholarship still are to be worked out by school officials and Mr. Davies.† When Mr. Davies first indicated some months ago that he was planning to offer scholarships to high school graduates, he outlined in a general way the qualifications he desired to see included in the criteria.† School officials, following Mr. Davies' broad plan, have prepared a, detailed plan, and yesterday Mr. Holtz turned this over to Mr. Davies for his consideration.
Holtz Expresses Thanks
In behalf of the school, Mr. Holtz yesterday expressed his deep gratitude to Mr. Davies for his generosity and told him that a "good many boys and girls are going to receive a university education because of your kindness and generosity."
Mr. Davies told Mr. Holtz and the committee that the Watertown High School was very dear to him, and credited the high school, as well as the University of Wisconsin, with having played a major part in his success.† Mr. Davies graduated from the local high school in 1893 as valedictorian of his class.
1952
First High School class to receive a Joe Davies Scholarship††† WDTimes, 08 13 2012, p4.††† Attended by Ray Ryan
1955††††† Davies Scholarship Recognition Luncheon at Green Bowl
06 08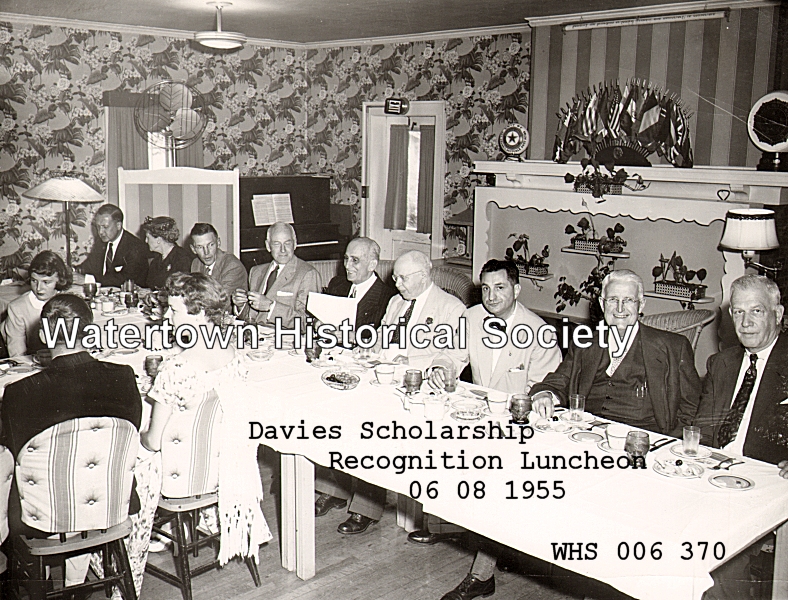 Left to right, at long table:† J. D. Stamm, Mrs. Victor Stamm, Mr. Roger Holtz, Superintendent of Schools, Mr. Millard Tydings, son-in-law of Davies and Senator from Maryland, Joseph Davies, Charles B. Rogers, John Clifford, Victor Stamm, friend of Davies
1958
01 26†††††† The first step in connection with the first award of a Joe Davies scholarship in Lake Mills and Johnson Creek was made this week with the selection of a lay committee which will pick the scholarship recipient in each of the communities. The awards will be made at the close of the school year. Last May announcement was made that Lake Mills and Johnson Creek had been added to the area high schools to be included in the Joe Davies scholarship program. Up to that time Watertown, Juneau, Jefferson. Fort Atkinson and Waterloo were included in the program.†† WDT
1959
05 14††††††††† TREGARON
†††††††††††††† Tregaron, Washington estate, sold; proceeds to Joe Davies Scholarship Foundation†† WDT
1963
05 01†††††† The Board of Trustees of the Joe Davies Scholarship Foundation of Washington, D.C., is making additional funds available for the scholarship program which operates in Watertown and in six nearby communities.† Starting with the fall school term, the sum of $700 will be provided annually for each scholarship, instead of the present $650.† Each scholarship covers four years of schooling at the University of Wisconsin at Madison or the University of Wisconsin, Milwaukee.† The new total for each four year scholarship will be $2,800 instead of the present $2,600.† Announcement of the increase was made today by John D. Clifford, editor and publisher of the Daily Times, a member of the Board of Trustees, following return from Washington where he attended a meeting of the board.† Clifford also is the agent for the foundation in the administration of the scholarship program.††† WDT
1965
05 22†††††† DAVIES SCHOLARSHIPS AWARDED
Two senior boys and one senior girl today were awarded Joe Davies Scholarships at the annual Awards Day ceremonies held at Watertown High School.† The three are Terry Turke, Sharon Gerbig and William Sullivan. The parents of the three recipients are Mr. and Mrs. Lester Turke, Ixonia, Mr. and Mrs. Millard Gerbig, 612 Werner Street, and Frank and Betty Sullivan, Rich wood.† WDT
1986
05 20†††††† 1986 SCHOLARSHIP RECIPIENTS
A number of students were recognized at the annual honor and awards program at Watertown Senior High School Thursday evening.† For many, the awards are the culmination of their high school careers and the beginning of plans for further education next year.† The scholarship award presentations were headed by the six Joseph E. Davies scholarships, which this year have a total value of $36,000.† Each of the scholarships are valued at $6,000 over a four year period.† The scholarships were presented by Attorney Joseph D. Tydings of Washington, D.C., a grandson of Joseph E. Davies, to Charles Block, Barbara Fullmer, Rhonda Grabow, Jeanette Peirick, Susan Peirick and Robin Roe.†† WDT
1990
05 21†††††† 1990 SCHOLARSHIP RECIPIENTS
Seniors at Watertown High School Thursday evening were awarded a number of scholarships to attend colleges next fall.† It was one of the highest awards ever with awards totaling well over $100,000.† Six seniors received Joseph E. Davies Scholarships, valued at $6,800 over four years.† They were Robert Agasie, Vanessa Boeder, Jeffrey Hertel, Brooke Nustad, Kimberly Tietz and Mark Schumann.† The scholarships, the largest to be awarded Thursday evening, are for students who plan to attend any of the four-year campuses of the University of Wisconsin system.† The awards were presented to the students by Sen. Joseph Tydings, a grandson of Davies and president of the Davies Scholarship Foundation.† WDT
1997
04 28†††††† SCHOLARSHIP AMOUNT INCREASED
The value of Joseph E. Davies scholarships will be increased by $600 this year, trustees of the Joseph E. Davies Scholarship Foundation decided on Monday.† The decision was reached at the annual meeting of the foundation which was held in Washington, D.C.† Under the new plan, scholarships to be awarded next month will have a value of $10,800.† Thatís up from last yearís $10,200.†† WDT
2005
05 15†††††† Scholarships and awards valued at over $400,000 were presented to Watertown High School seniors at the annual awards program Sunday afternoon in the schoolís auditorium.† Heading the list of locally administered scholarships was Amelia Quist, who received one of two Joseph E. Davies scholarships valued at $18,000 over four years, a Wisconsin Academic Excellence scholarship valued at $9,000 and the Nack Valedictorian scholarship valued at $1,000 for a total value of $28,000 in scholarships.† Next were the five students who were awarded the Rev. Frederick W. Lemke and Ruth Hauser Lemke awards.†† WDT
11 20†††††† Three area men have been added to the board of trustees of the Joseph E. Davies Scholarship Foundation.† In addition, foundation officials announced that the scholarship value will be increased to $20,000, effective with the awards to be made in May of 2006.† The three new trustees are Pat Caine and Kevin Clifford of Watertown and Jim Bender of Lake Mills.† The three are an expansion of the existing board of trustees.† Caine serves as senior vice president of M& I Bank of Watertown, Clifford as general manager of the Watertown Daily Times and Bender is communications director for state Rep. Jeff Fitzgerald of Beaver Dam.† WDT
2016
03 22†††††† KUZMESKI ELECTED PRESIDENT OF JOSEPH DAVIES FOUNDATION
Kuzmeski succeeds Joseph E. Davies of Washington, D.C., as president.† Davies will continue to serve as a trustee of the foundation.
Kuzmeski was also elected to the membership of the foundation.† She also succeeds Davies at that position.† Membership of the foundation is similar to stockholders in a public corporation.† Along with Kuzmeski, serving as members are James Clifford of Lake Mills, Robert Bender of Watertown, David Veldhuizen of Minoqua and Lawrence Beebe of Bethesda, Md.
Kuzmeski is the daughter of James and Patricia Clifford of Lake Mills.† She is a third generation member of the Clifford family to be deeply involved in the Davies foundation.† She has been a trustee of the board since 2004 and with Friday's election, has become president and now also holds membership.† Her brother, Kevin Clifford, serves as agent for the foundation. He also serves as vice president and a trustee of the foundation.
Kuzmeski's father, James Clifford, has served on the board in various capacities for decades. He currently serves on the membership and as a trustee.† It was Kuzmeski's grandfather, the late John D. Clifford, for over half a century was editor and publisher of the Watertown Daily Times, who initially worked with the late Joseph Davies in the formation of the scholarship foundation back in 1952.† The first scholarships were awarded in 1954.† He served on the foundation board and as the agent at its founding and continued in those capacities for several decades.
Kuzmeski is president of Red Zone Marketing, a multi-million-dollar consulting firm that works with a variety of industries.† The resident of Grayslake, Ill., is also the author of seven books, is a public speaker and podcast host. She is a May of 2016 candidate for a doctoral degree in business administration from Oklahoma State University, Stillwater, Okla.†† WDT
2017
05 10†††††† CHANGES TO VARIOUS BOARDS
The Joseph E. Davies Scholarship Foundation governing bodies made several changes to various boards at the annual meeting in Watertown this week.
Pam Streich, superintendent of schools for the Lake Mills School District and a Davies scholar, was elected a trustee of the foundation. She succeeds David Veldhuizen of Minoqua who tendered his resignation as a trustee.
Trustees re-elected at the meeting were Pat Caine, Kevin Clifford and John David of Watertown, James Clifford of Lake Mills, Chris Haeger of Cudahy, William Schultz of Lodi, James Bender of Lake Mills, Maribeth Clifford Kuzmeski of Grays-lake, Illinois, Donna Pitterle of Kenosha, Dihane D. Grosjean of New York City, New York and Lawrence Beebe and Brent Beebe of Bethesda, Maryland.
Members of the foundation were elected at the meeting. Members are similar to shareholders in a private corporation. Elected to membership were Maribeth Clifford Kuzmeski, of Grays Lake, Illinois, Kevin Clifford of Watertown, James Bender of Lake Mills, Lawrence Beebe of Bethesda, Maryland.
Trustees of the foundation elected officers. Elected were Maribeth Kuzmeski, president; Kevin Clifford, vice president; Lawrence Beebe, vice president and treasurer; Brent Beebe, assistant treasurer; and James Bender, secretary.
The officers also selected Kevin Clifford to continue in his duties as agent for the foundation.
The board decided the Davies scholarships would continue to be funded at $20,000 per award. This year one student from Watertown, Jefferson and Dodgeland High School will receive the Davies awards.
Watertown High School is awarded a scholarship each year and other schools receive a Davies on a rotating basis.
Cross Reference:
Ray Ryan, mention of, friend of Davies

History of Watertown, Wisconsin