website† watertownhistory.org
†ebook† History of Watertown, Wisconsin
J. Pillsbury and C. Peters exchange vows
2011
<![if !vml]>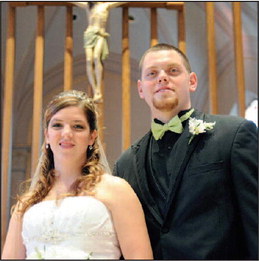 <![endif]>
Jessica and Cory Peters
Cory Peters and Jessica Pillsbury, both of Watertown, were united in marriage on Oct. 15, 2011, at St. Henry Catholic Church. †The 1 p.m. ceremony was officiated by Monsignor Daniel Ganshert.
Jessica is the daughter of Jerry and Cindy Pillsbury, W6241 Prairie-Aire Drive, Watertown, and Cory is the son of Mark and Kristine Peters, 330 Riviera Lane, Watertown.
The matron of honor was Jennifer Sjoberg, sister of the bride, and the bridesmaids were Kay Parham, sister of the groom; Cari Grulke, Allison Peot, Caly Schroeder and Tanya Ulm, friends of the couple. Lillian Schildbach, cousin of groom, was the junior bridesmaid and Layla Verdick, cousin of the bride, was the flower girl. The best man was Michael Parham, brother-in-law of the groom, and the groomsmen were Ryan Pillsbury, brother of the bride, Timothy Suckow, Shawn Kressin, Nate Riedl and Rob LaVigne, friends of the couple. Edward Haeger, cousin of the groom, was the junior groomsman and the ring bearer was Owen Sjoberg, nephew of the bride.
The ushers were Brandon Butler, cousin of bride; Alex Haeger, cousin of the groom; Robert Haeger, cousin of the groom; and Kevin Kromm, friend of the couple. Judy Kluetzman was the organist and Richelle Von Rueden was the soloist.
The reception was held at the Ixonia Firemanís Hall, where the entire wedding party followed the Haeger family tradition of drinking out of a bedpan. †The couple felt both anxious and excited on their wedding day, and Jessica was so nervous that her hands swelled up during the ring exchange. †Cory had a hard time placing the ring on her finger and he ended up putting it on the wrong way.
Jessica said her favorite characteristic of Cory is that he always knows how to make her laugh, no matter what kind of mood she is in. Cory says he wants to spend the rest of his life with Jessica because she is very loving and caring.
The couple has not planned a wedding trip at this point in time, but they are hoping to go someplace warm in the next few months. Cory and Jessica are making their home in Watertown.
Cory studied liberal arts at Madison Area Technical College and is currently a die builder at Innerpak Inc. in Watertown. Jessica graduated from Carroll University in Waukesha in May of 2011 with a Bachelor of Science degree in exercise science. She is currently working at Watertown Fitness as a personal trainer and at Hibbett Sports as a sales associate.

History of Watertown, Wisconsin