This file part of www.sainthenryparish.org website
Edwin Zubke
1928-2002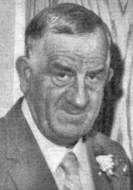 Edwin L. Zubke, 74, of 112 Stimpson St., Apartment No. 144, Watertown, died Friday evening, Nov. 29, 2002, at Beverly Terrace HealthCare in Watertown.
Funeral services at St. Henry's; burial in St. Henry's Cemetery.
Edwin was born April 21, 1928, in the town of Emmet, son of William and Antonia (Senkel) Zubke. He married the former Isabelle Gibson on Feb. 13, 1954, at St. Henry Catholic Church in Watertown.
Edwin attended school in the town of Emmet. He had owned and operated his own salvage yard in the town of Emmet. He had also been employed for the former Bickets Rubber Co. of Watertown; was a truck driver for Coughlin Milk Transport and Lake Mills Black Top Co.; worked part time in the circulation department for the Watertown Daily Times as a carrier; had been a sexton at the Lutheran Cemetery; and was a bus driver for Oconomowoc Transport Co. He had received the Bus Rodeo Award for his expertise in driving.
Shortly before and after his retirement he had been engaged in mini farming, growing various crops using antique farm equipment. He enjoyed doing mechanical work on antique farm tractors and other equipment.
Surviving are three sons, Peter (Michelle) Zubke, Donald (Jeannine) Zubke, Robert (Kathleen) Zubke, all of Watertown; a daughter,   Maryann(James) Adam of Watertown; 11 grandchildren, Ryan, Samantha, Bobbi Jo, Jennifer, Lisa, Nick, Adrienne, Eric, Amber, Annette and Gwendolyn;    a brother, Arnold (Arbutus) of Lebanon; a special friend, Evelyn Schwok of Watertown; nieces, nephews, other relatives and friends.
He was preceded in death by his wife, Isabelle Zubke on May 11, 2002; a granddaughter, Stephanie Adam; his parents; and a brother, Fred Zubke.