This file part of www.sainthenryparish.org website
Neva Zimmerman
1925 - 2009
<![if !vml]>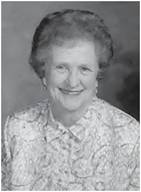 <![endif]>
Neva M. Zimmerman, 83, of Watertown, died on Wednesday, April 29, 2009, at Marquardt Memorial Manor surrounded by family.
Funeral services will be held on Friday at 1 p.m. at St. Henry Catholic Church in Watertown with Father Brian Wilk officiating.  Burial will be in St. Henry's Cemetery.
Visitation will be held on Friday at 11 a.m. until the time of service at the church.
Memorials to St. Henry Catholic Church or the charity of one's choice would be appreciated.
Neva was born on Sept. 27, 1925, in Watertown, daughter of John and Lydia (Shearer) Weihert.  She graduated from Watertown High School in 1944 and married Kenneth Fendt on Sept. 7, 1946.  He preceded her in death on Feb. 8, 1969.  She then married Arthur Zimmerman on Aug. 4, 1973.  He preceded her in death on Oct. 8, 1989.
She was a member of St. Henry Catholic Church, AARP Chapter No. 3056 and the Watertown Senior Center.  Before retiring she worked at Kohl's Department Store.  She loved to play cards, dominoes and bingo. She also liked to crochet afghans and put jigsaw puzzles together.
She is survived by two daughters, Susan (Michael) Gundrum of Theresa and Bonnie (Dennis) Degner of Watertown, and one son, Steven Fendt of Tulsa, Okla.  She is also survived by one stepson, James Zimmerman of Waupun; one stepdaughter Donna Chase of Juneau; eight grandchildren, Tony, Ben and Shannon Fendt, Kevin and Matt Gundrum, Becky (Bryon) Shafer, and Mike (Nicole) and Tracy Degner; six stepgrandchildren; five great-grandchildren; two great-great-grandchildren; one brother, Earl (Irma) Weihert of Watertown; and one sister Shirley Erp of Ozark, Ark.  She is also survived by numerous relatives, nieces, nephews, and friends.
She was preceded in death by one son, Richard (Doc) Fendt of Watertown; her parents, John and Lydia Weihert; one brother and sister-in-law, Howard and Jeanette Weihert; and one stepson, Brian Zimmerman.
Pederson Funeral Home 213 S. Fifth St. Watertown
Cross reference:
               Sister-in-law of Wilfred Fendt