This file part of www.sainthenryparish.org website
Thomas E. Woolley
1928 - 2005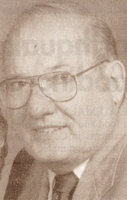 Thomas E. Woolley, 76, of Watertown, passed away unexpectedly with his entire family at his side Thursday, Oct. 6, 2005, at St. Luke's Medical Center in Milwaukee.
Funeral services will be on Tuesday at 11 a.m. at St. Henry's Catholic Church with the Rev. Bernard Rott officiating. Burial will be in the St. Henry's Cemetery with military graveside rites by Watertown American Legion Post #189.
Tom was born Dec. 9, 1928, in Appleton, the son of Percy and Alberta (Schweitzer) Woolley. He served in the U.S. Navy in the Pacific Ocean during the Korean Conflict. On Sept. 24, 1955, he married the former Jeanne Anderson in La Crosse. Tom had been employed at Durant's in Milwaukee and retired from Eaton Corp. in Watertown. He was a member of St. Henry's Catholic Church, American Legion Post #189, Watertown Lion's Club, a life member of Watertown Elk's Lodge #666, he was involved in Relay For Life and he had been active in Boy Scouts and Junior Achievement.
Tom enjoyed his annual fishing trips to Canada, woodworking, camping and golf. He has always been surrounded by his beloved dogs, currently Shandar.
Survivors include his wife, Jeanne; his children, Richard (Gail) Woolley of Watertown, Linda (Steven) DuBois of Menasha, Karen (Randall) Brooks of Maplewood, Minn., Mark (Darci) Shook-Woolley of Wauwatosa, Mary (Ronald) Heinecke of Oconomowoc, John (Ann) Woolley of Portage, Mich. and Steven Woolley of Jefferson; a daughter-in-law Nancy Leege-Woolley of McFarland; 11 grandchildren; sisters and brother Barbara Padosky of La Crosse, Patricia (Charles) Pearse of Savannah, Ga., Susan (Charles) Mathy of La Crosse and John Michael Woolley of Woodbury, Minn.; nieces; nephews; other relatives and friends. He was preceded in death by his son, Brian Woolley; parents and twin brother, Joseph Woolley.
Schmutzler-Vick Funeral Home And Cremation Service, 500 Welsh Road, Watertown