website  watertownhistory.org
    ebook  History of Watertown, Wisconsin
Mary Engelhart Wolfram
1854 - 1927
Wife of Anton Wolfram
Mary died 23 Feb 1927 at according to her obituary printed in Watertown Daily Times Newspaper.  Her residence at that time was 207 Cole Street, Watertown, Wisconsin.  Her death, recorded in Jefferson County courthouse, states she died   She was 73 years, 1 month, 3 days of age.  Cause of death was listed as "lobar pneumonia secondary to nephritis (sick 2 months)".  Dr. Becker was the registering doctor and he wrote "tests: lab exam - no autopsy.  Saw her Feb 14 to Feb 23, 1927.  Died "
Carp
Mary's granddaughter, Florence Donahue, remembers visiting Mary and Anton at their home on Oconomowoc Ave, near East Gate Drive -- where they lived around 1910.  Florence recalled seeing her grandmother fishing for carp by taking a wash tub and hay rake to the river. There she would easily pull the fish into the tub because the fish were so plentiful in the springtime.  Mary then pickled the carp which was considered a delicacy. 
Cross Reference:  Chapter on Carp  
There were also plenty of strawberries from the garden.  Florence remembered chickens in the yard as well as a few cows and a horse.  Ben was the youngest child of Mary and he lived at home with his parents until he married in 1916.  He worked for the county paving roads and Florence could remember him paving Oconomowoc Ave.
At this time, Mary still had her father-in-law Karl's books in the house and Florence remembered asking why there were so many copies of each book.  Mary explained that Karl had been a school teacher.  He had been well educated in Germany before emigrating. He had served as a rural school teacher near Ixonia using the textbooks that were now kept in her house.  Karl had lived with Mary and Anton before his death in 1902.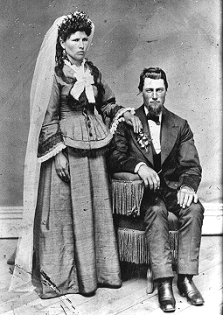 Mary and Anton, June of 1875
Mary had married Anton in June of 1875 and as newlyweds, they moved into Karl's house on Gopher Hill Road east of Watertown. At that time, Karl was a widower with children, at least 5 under the age of 18 yr.   Mary lived on the Wolfram homestead for the next 22 years, giving birth to her five children there. Her husband farmed while her father-in-law Karl lived with them.   She would be about 43 yr. old when the house was sold and they moved into the city of Watertown.  Grandfather Karl was 75 yr. old when they left Gopher Hill Rd. farm and would die Dec. 1902 when they lived on Nth Washington Street in Watertown.
The time spent on Nth Washington St. was not the best for Mary.  At this time, her daughters were married and her father-in-law and son died.  Daughter Anna married William Neis Oct, 1902 and shortly after, in December, Karl Wolfram died.  Her eldest daughter, Helen, married Charles Lutovsky in Jan. 1903 and in May her 14 year old son, Edward, dies of enlarged heart.  In June 1904 son Joseph marries Augusta Stock so that Mary is then left living with only her husband and her youngest son, Ben. 
They moved further out of the city and are listed in city directory as living at 1551 Oconomowoc Ave in 1915.  Mary preferred living in the countryside where she could have chickens and cows and grow vegetable garden.  They would have been in the midst of the Bohemian settlement near Mary's relatives. However, after Ben married in 1916, they moved back into town and are listed at 703 Division St in 1917.
Then they moved to 207 Cole St. where Anton died Sept. 20, 1921 at age 70 yr.  Later Mary died there Feb 23, 1927 at age 73 yr.  Interment is in the parish cemetery.
Cross Reference:  Wolfram Family Timeline file

History of Watertown, Wisconsin