This file part of www.sainthenryparish.org website
Augusta (Stock) Wolfram
1884 - 1966
Mrs. Augusta Wolfram, 81, of 108 1/2 South Second Street, died at her home on January 3, 1966.
She was the former Augusta Stock, daughter of the late Mr. and Mrs. Rueben Stock and was born in the town of Lowell on Dec. 8, 1884. In 1904 she was married to Joseph Wolfram. He preceded her in death in 1953.
She was a member of St. Henry's Catholic Church.
The requiem Mass at St. Henry's was conducted by the Very Rev. A. J. Herrmann and interment is in the parish cemetery.
SURVIVORS:
Daughter                Mrs. William Boettcher
Daughter                Mrs. John Knaak, Watertown
Daughter                Mrs. Melvin Anderson, Watertown
Son                     Edward of Juneau
Son                     Elmer at home
Son                     Ray of Watertown
Son                     Francis of Mukwonago
Son                     George who was in the service in 1966
and stationed in the Philippines.
There were 14 grandchildren and 14 great-grandchildren.
PRECEDED IN DEATH:
Mrs. Wolfram was the last member of her immediate family, four brothers and four sisters having preceded her in death.
Augusta (Stock) Wolfram
Augusta was born in the Town of Lowell in Wisconsin on Dec 8, 1884 to Rueben and Auguste Wilhelmina (Prietz) STOCK.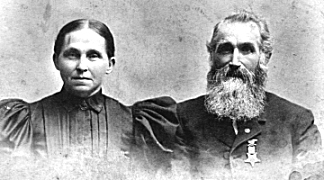 Rueben and Auguste Wilhelmina (Prietz) STOCK
She was the seventh child of nine children born to this family living on a farm in Dodge County. 
When her parents married, her mother had just recently emigrated from Germany. Her father was already a Civil War Veteran, having been raised on a farm in the Lowell area.
Her father (Rueben) served in Company F - 5th Wisconsin Infantry during the American Civil War.
Her father had arrived in Wisconsin circa 1850 from Massachusetts at the young age of 2 yr. and he had grown up in the Lowell area.
Her Mother had been born in Germany and had arrived in USA when she was 18 years old, circa 1869.
Her parents married 1870; a year after her mother had arrived from Germany.  Augusta's parents then settled in the Lowell area to farm as her paternal and maternal grandparents both farmed in the area.
Either her maternal grandfather or an uncle, William Prietz, still owned farmland in the eastern Lowell-Reesville area in Dodge County in 1910 as shown on a map in a Dodge County Land Plat book.
Her father was a tinsmith, as her grandfather had manufactured and sold tin and hollow ware.
Augusta STOCK married Joseph WOLFRAM June 07, 1904 at St. Henry's Church in Watertown. Witnesses to the marriage were William Engelhart and Laura Engelhart.  Her new husband Joseph had also been raised on a farm but was working as an interior painter and wallpaper hanger while living in the city of Watertown on North Washington Street.  He would soon return to farming as he and Augusta settled in the Richwood area north of Watertown.  They would raise a family of eight children there and retire in old age to the city of Watertown, living out their last years on South Second Street, in an apartment over a grocery store. They were within walking distance of church and stores and bank, which enabled them to live fairly independently.
Augusta was remembered by her children as being soft spoken and kind.  She was olive skinned with black eyes and had an attractive face, although in her old age, she insisted on wearing make up.  However, she seemed to "live in the past" and continued to wear old period clothing, long dark dresses from the turn of the century . . .
Family oral history:  According to her daughter-in-law, Elizabeth EGYHAZI Wolfram, Augusta was a tidy housekeeper.  She "always had the table set ready for guests.  She always had a tablecloth and crackers on the table.  She would baby-sit her grandson, Charles, and would sit rocking him in her chair.  She often sat in rocking chair in a corner of the living room. She washed her clothes by hand and did her own housework and cooking. She was soft spoken and Liz recalls her often saying, "Now you mustn't quarrel.  The Lord doesn't want you to do that." 
She had suffered the death of one child who died 8 days after birth in 1916 when she was 32 yr. old. However, three more children were born, making a total of eight births . . .
Augusta died of congestive heart failure on 3 January 1966, almost thirteen years after her husband's death.
Additional family history to be found within the Stock Family History book written by Karren Wolfram and held by the Dodge/Jefferson Counties Genealogical Society Library (REFER: R-929.2-Stock)
Reuben STOCK      Father of Augusta
CIVIL WAR VETERAN
Per Dodge County Courthouse Records --00039
Marriage Registration 23 April 1870
Occupation:   Tinsmith
Residence:   Lowell, Wisconsin
Married Auguste W. Pritz on 17 April 1870
 with witnesses William Richer and Alice Richer
Born 1848 in Massachusetts, young Reuben Henry traveled to Wisconsin soon after his birth and was about 2 yr. old when his parents settled in the Lowell area circa 1850.
There were a total of at least 12 children born to parents Henry and Caroline.
Civil War -Reuben served in Company F - 5th Wisconsin Infantry
A roster of enlisted men shows Reuben served with several other men from the Township of Lowell, Andrew McFadden, Carl Wilbe and Nathan Powell. Also from Watertown were Alexander E. Brown, Ferdinand Ott, and Arunah B. Dwinnell
Rueben enlisted Sept 27, 1864
This was after the original 5th Regiment had been mustered out on 3rd August at Madison, Wisconsin after three years of service in war battles.  In May and June of 1864 there had been large numbers of casualties at Petersburg, Virginia. On 11 July, the 5th Infantry had accompanied the 6th Corps to Washington, arriving on the 12th, to assist in the defense of that city.  On that day, the three years term of the non-veterans having expired, they volunteered for the defence of the Capitol. The danger having passed, they left Washington on the 16th, for Wisconsin, and arrived at Madison on the 22nd July where they received a hearty welcome from the State authorities.  They were finally mustered out the 3rd of August.  Thus ended the service of the original 5th Regiment. 
The re-enlisted veterans and recruits were organized into an "Independent Battalion" of three companies under command of Captain Kempf, Company A, Captain Jacob Cook, Company B, and Captain Butterfield, Company C.  On the 13th of July, they moved with the 6th Corps to the Shenandoah Valley in pursuit of the enemy. Returned to Washington on the 26th, and proceeded to Harper's Ferry.  There were casualtie4s in September and October while near Charleston,  taking part in the battle of Cedar Creek.
Meanwhile in Wisconsin-----
Per MILITARY HISTORY OF WISCONSIN ---
Gov. Lewis then re-organized the 5th Infantry and re-commisioned Col. Allen as its leader.  Previously in 1863, Col. Allen had been struck by a bullet which had shattered his left hand. Now, under his supervision, seven companies were rapidly recruited, organized and mustered into the United States service, and left the state on the 2nd of October, to join the "Indpendent Battalion" at Winchester.
Colonel Thomas S. Allen had 10 companies under his command and our Rueben STOCK was in Co. F under Captain William Bremmer.  Rueben enlisted Sept 27, 1864 and left the state on the 2nd of October, to join the battalion at Winchester.
The seven companies recruited arrived at Washington, received arms, and were sent to Alexandria, where they remained, doing provost duty, until the 20th of October.  Then they proceeded by way of Martinsburg and Winchester to Cedar Creek, where they joined the Battalion and the forces under General Sheridan.  They remained at that place until the 1st of December, Col. Allen being put in command of the Brigade.  Rueben would have been about 16 yr. of age then.
With the 6th Corps, they rejoined the forces of General Grant in the trenches before Petersburg on the 4th of December, where they remained until the 5th of February, 1865.  They took part in the extension of the lines at Dabney's Mills, on Hatcher's Run, suffering little loss in that engagement, being held in the reserve.  Only two men were wounded, from Companies G and C.
On the 25th of March, 1865, the regiment participated in the general skirmish along the whole line, and succeeded in driving in the rebel outpost then in front.  Here, One man was killed and 4 men wounded, none from Co. F.
In the charge on the enemy's works at Petersburg, April 2nd, the 5th Wisconsin and Thirty –seventh Massachusetts, led by Col. Allen, were in the extreme front, supported by two lines in the rear.  At the signal for the charge was given, and the colors of the Fifth were first planted on the enemy's works, that regiment being the first to enter the captured Petersburg.
Col. Allen led a portion of the regiment two miles through the abandoned lines of the enemy to the South Side Railroad.  By the troops were reassembled, marched 6 miles to the left inside of the late rebel works, capturing many prisoners.  Then back to the right, where the regiment was engaged in skirmishing till night.  There were losses, 8 killed and 71 wounded.   The loss of the Regiment was about one-tenth of that suffered by the whole corps, consisting of fifty regiments.
"On the afternoon of April 3rd, they joined in the pursuit of General Lee, marching with great rapidity day and night. The Sixth Corps encountered General Ewell's forces at "Little Sailors' Creek" on the 7th.  The lines were quickly formed, and they pushed forward at a double quick, the regiment marching with unbroken line through a swamp waist deep, under the fire of the enemy's musketry. They moved to a brow of a hill, where the enemy was discovered but a few paces distant, admirably posted, and fighting with the energy of despair.  The regiment was in an extremely hazardous position, being subjected to a severe flank and cross fire.  Colonel Allen rode in advance of the line as though danger was unknown."    Company G, and Company C were deployed as skirmishes.  "Lieutenant General Ewell and staff surrendered to six men of the skirmishers, under command of Sergeant Cameron, Company A, who was promoted Lieutenant on the field, for his gallantry.  The action of the regiment elicited high encomiums from the corps, division, and brigade commanders."
Reuben was listed as one of the 79 wounded—on Wed April 7th (8 later died of wounds) and 16 had been killed directly in the skirmish.  In Rueben's Company F, the men killed included Corporal George L, Welty and Privates C. TRUAX and George TRUAX.
The pursuit was continued until the 9th, when General Lee surrendered.
On the 10th, the regiment commenced it's return, and reached Burke's Station on the 18th, marched to Richmond, Virginia, which they reached on the 20th. On the 24th, left for Washington where they arrived on the 2nd of June, after a long and tedious march.  Left Washington June 16th, 1865, and arrived at Madison June 20th.  They were soon mustered out, Rueben listed as MO on June 13th, thus closing the record of the "Fighting Fifth".
"Col. Allen was brevetted Brigadier General for gallant and meritorious services during the war.  Regimental statistics: ---
Original strength,   1,058.
Gain, by recruits in 1863, -- 210,    in 1864, ---684,   in 1865, --- 25;
(Reuben had joined in 1864)
by substitutes, 50;  by drafting 1865,  25;  by veteran enlistments, 204; 
TOTAL 2,256.
Losses----deaths, 285; missing, 4; desertion, 105; transferred, 33; discharged, 405;  mustered out,  1,424."
Reuben was wounded April 06, 1865 and mustered out of Service on June 13, 1865, per Roster of Company F.
Five years later he marries Auguste PRITZ at St. Henry's Church, Watertown, Wisconsin and they live in the Township of Lowell, Dodge County.
Beaver Dam Argus Newspaper - 02 June 1887 we find Obituary
Buried in family plot at Lowell Cemetery in Wisconsin