This file part of www.sainthenryparish.org website
Jane Wanke
1972 - 2010
<![if !vml]>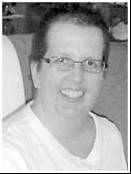 <![endif]>
IXONIA - Jane Elizabeth Wanke, 37, of Ixonia, passed away Friday, Jan. 22, 2010, at AngelsGrace Hospice in Oconomowoc.
A Mass of Christian Burial will be held on Tuesday at 11 a.m. at St. Henry Catholic Church in Watertown, with Father Brian Wilk officiating.  Burial will be in St. Henry Catholic Cemetery.
Relatives and friends may call the Hafemeister Funeral Home in Watertown to pay their respects on Monday from 4 to 8 p.m.  A Rosary service will be held at 7:45 p.m.  A visitation will also be held at the church on Tuesday from 9:30 a.m. until the time of the Mass.
Memorials, in Jane Elizabeth's name, may be given to St. Jude's Children's Hospital, St. Henry Catholic Church or the charity of one's choice.
Jane Elizabeth Wanke was born in Watertown on April 4, 1972, daughter of Donald and Genevieve (Gnabasik) Wanke.
She was a graduate of St. Henry Catholic Grade School and a 1994 graduate of Watertown High School.  She received her bachelor of science degree in nursing from Carroll Columbia College in Waukesha.
Her greatest job following graduation was working at Elmbrook Hospital in the Neonatal Intensive Care unit.  Jane Elizabeth had been employed as a Pediatric Catastrophic Case Manager at WPS Insurance in Madison, where she received numerous commendations.
She was a member of St. Henry Catholic Church and served as Eucharistic minister.
Jane Elizabeth loved being with her nieces and nephews.  She was also an avid reader and enjoyed scrap booking and cross stitching.
She is survived by her parents, Donald and Genevieve Wanke of Ixonia; her two sisters, Diane (Todd) Cantwell of West Bend and Julie Anne (Scott) Krahn of Watertown; her brother, Daniel (Michelle) Wanke of Watertown; her nieces and nephews, Allison and Brianna Wanke, Cameron and Danielle Krahn, Ryan, Cory and Laura Cantwell; her dear friend, Kris Vespia of Green Bay; as well as aunts, uncles and other relatives and friends.
Jane Elizabeth was preceded in death by her maternal grandparents, Stephan and Elizabeth Gnabasik, and paternal grandparents, Anthony and Genevieve M. Wanke.