This file part of www.sainthenryparish.org website
William 'Bill' Walsh
1922 - 2010
<![if !vml]>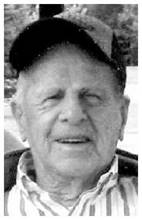 <![endif]>
William "Bill" Walsh, 88, of Watertown, passed away Monday afternoon, Nov. 15, 2010, at AngelsGrace Hospice in Oconomowoc.
A Mass of Christian burial will be held on Saturday at 11 a.m. at St. Henry Catholic Church in Watertown with Father Brian Wilk officiating.  Burial with graveside military rites provided by the Watertown American Legion Post No. 189 and Watertown Veterans of Foreign Wars Post No. 3709 will be in the parish cemetery.
Relatives and friends may call to pay their respects at the church on Saturday from 9 a.m. until the time of the service.
Memorials may be directed to St. Henry Catholic School or the charity of one's choice.
The Hafemeister Funeral Home is serving the family.
Bill was born in Watertown on June 25, 1922, son of Raphael and Rose (Ellis) Walsh.  On June 29, 1946, he married the former Frances Becker at St. Matthew's Catholic Church in Neosho.
He was a graduate of Watertown High School and served in the U.S. Army during World War II.  Bill was an "over the road" truck driver most of his life and owned and operated Walsh Masonry Inc. of Ixonia.
He was a member of St. Henry Catholic Church and the Knights of Columbus.  Bill was also a member of the Watertown American Legion Post No. 189 and the Watertown Veterans of Foreign Wars Post No. 3709.  He enjoyed reading and woodworking.
Survivors include his wife, Frances Walsh of Watertown; his five children, Michael (Janet) Walsh of Watertown, Terry (Dawn) Walsh of Oconomowoc, Patti (Rick) Ebert of Watertown, Colin (Denise) Walsh of Helenville and Lisa Walsh of Watertown; 14 grandchildren, Julie and Jackie Walsh, Allison (Pete) Lorenz, Abby (Nate) Grimm, Jon Maas, Bryant (Gayle) Ebert, Ben Ebert, Brad Ebert, Angela Walsh, Natalie Walsh, Charlie Walsh, Mike Walsh, Zach Walsh and Timmy Walsh; five great-grandchildren, Ally Verity, Britney Ebert, Evelyn Ebert, Vance Walsh and Chloe Grimm; a brother, Dennis Walsh of Clyman; a sister-in-law, June Walsh of Miami, Fla.; nieces, nephews, other relatives and friends.
Bill was preceded in death by his parents; his two daughters, Colleen Maas and Michele Walsh; and two brothers, Tom Walsh and Larry Walsh.