This file part of www.sainthenryparish.org website
Frieda A. Timm
1915 - 2009
<![if !vml]>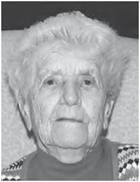 <![endif]>
Frieda A. Timm, 93, of Watertown, passed away Friday morning, June 5, 2009, at Marquardt Memorial Manor in Watertown.
A Mass of Christian burial will be held at noon on Monday at St. Henry Catholic Church in Watertown with Father Brian Wilk officiating.  Burial will take place in St. Henry Catholic Cemetery.
Relatives and friends may call to pay their respects at the church on Monday from 10 a.m. until the time of the Mass.  Memorials may be directed to Marquardt Memorial Manor or to the charity of one's choice.
Frieda Anna Huebel was born in Watertown on Oct. 21, 1915, daughter of Vincenz and Theresia (Mueller) Huebel.  She married Theodore Timm on Nov. 28, 1936, at St. Henry's Catholic Church.
She was a member of St. Henry Catholic Church in Watertown.  Her faith was a very important part of her life.  She enjoyed embroidery, baking, playing cards, reading and puzzles.
Frieda is survived by two daughters, Patricia Schacker of Sun Prairie and Cathy (Eugene) Kaczor of Watertown; three sons, William (Delores) Timm of Merrillan, James (Carol) Timm and Allen (Karen) Timm, both of Watertown; 12 grandchildren, Teri Schacker, Greg (Courtney) Schacker, Cindy (Tim) Rupprecht, Laurie (Mark) Klecker, Dan (Pam) Timm, Tracy Timm, Mike Timm, Sheila Timm, Jeff (Pat) Timm, Melissa (Steve) McCaig, Amy (Tom) Loukota and David (Sarah) Kaczor; 10 greatgrandchildren, Cory (Kristi) Rupprecht, Kyle Rupprecht, Tanner Klecker, Jessie Klecker, Zachary Timm, Kiley Timm, Cambria McCaig, Kiana McCaig, Brandon Loukota and Brett Schacker; other relatives and friends.
Frieda was the last member of her immediate family.
She was preceded in death by her parents; her husband Theodore "Doc" Timm on Oct. 27, 1976; a grandson, Brent Kaczor; a son-in-law, Ralph; four brothers, Rudy Huebel, Francis Huebel, Herman Huebel and Joseph Huebel; five sisters, Maria Huebel, Eleanore Crouch, Helen Huebel, Anna Smith and her twin sister, Margaret Kuchenreuter; nieces and nephews.
Hafemeister Funeral Home 611 E. Main St. Watertown