This file part of www.sainthenryparish.org website
Walter E. Stewart
1932 - 2009
<![if !vml]>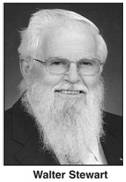 <![endif]>
Walter E. Stewart, 77, of Watertown, passed away Thursday, Dec. 10, 2009, at UW-Hospital in Madison.
A Mass of Christian Burial will be held on Tuesday, Dec. 15, 2009, at 11 a.m. at St. Henry Catholic Church in Watertown, with Father Brian Wilk officiating.  Burial, with military graveside rites being conducted by the Juneau American Legion Post No. 15, will be in St. Henry Catholic Cemetery in Watertown.  Memorials may be directed to St. Henry Catholic Church.
Relatives and friends may call to pay their respects at the Hafemeister Funeral Home on Monday from 4 to 8 p.m. and at the church on Tuesday from 10 a.m. until the time of the Mass.  The Watertown Moose Lodge No. 830 will hold a service at the funeral home on Monday evening at 8 p.m.
Walter Edward was born in Ridgeway on Dec. 10, 1932, son of Walter E. and Flora (Haskins) Stewart Sr.  He served in the United States Army from October of 1951 to August of 1954, during the Korean War.  On Oct. 6, 1956, Walter married the former Loretta Ann Heiden at St. Henry Catholic Church Parsonage.  Loretta preceded him in death on Oct. 23, 2007.
Walter had been employed at Waukesha Engine Dresser Inc. from 1955 to 1997, retiring after 42 years of employment.  He was a member of the Machinist Union.  Walter was also a member of St. Henry Catholic Church, the Juneau American Legion Post No. 15 and the Watertown Moose Lodge No. 830, both since 1962.  Walter had served as past governor for the Moose Lodge.  He enjoyed fishing, puzzles, gambling and going for walks.
Survivors include his son, John (Carol) Stewart of Watertown; three daughters, Sarah (Mike) Walter of Johnson Creek; Sally (Richard) Rumary of Watertown; Sandra (Brian) Steffen of Watertown; twelve grandchildren, Pam (Lee) Schuhmacher, Nick (Mandy) Walter, Adam (Heather) Walter, Tony (Jenny) Walter, Brad (Kristi) Walter, Jacki Rumary, Alex Rumary, Allen (Michelle) Stewart, Rebecca Stewart, Robert Stewart, Stacey Stewart, Jenn (Zach) McCory; ten great-grandchildren; two sisters, Janice Appenfeldt and Geneva Stewart, both of Watertown, other relatives and friends.
Walter was also preceded in death by his parents; a sister, Janet Stewart and two brothers, David and Dale Stewart.
Our father lived his life for his family.  He worked hard as a young man to provide.  When he retired, he became very close to his children and grandchildren.  To the great-grandchildren, he was "papa hey hey" and they all loved him.  We will miss him on our summer fishing trips and in all the little ways he touched our lives.  We will always be grateful for the loving example he set.  The Lord took him home to be with our mother.