This file part of www.sainthenryparish.org website
Andrew Sherfinski
1915 - 2007
  9 23 2007
<![if !vml]>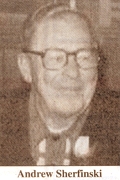 <![endif]>
Andrew J. Sherfinski, 92, of Waukesha and formerly of Watertown, passed away on Sunday at the Virginia Nursing Home in Waukesha.
Andrew was born on April 7, 1915, in Brokaw, the son of John and Marciana (Zuiwicky) Sherfinski. He married the former Clara Woyak on June 21, 1936, and she preceded him in death on Jan. 13, 1988.
Andrew served in the U.S. Army during World War II in the Philippines. Andrew had been a printer with R. R. Donnelley & Sons in Chicago. He was a member of St. Henry Catholic Church and he enjoyed woodworking, art and music.
Survivors include his children, Kenneth (Virginia) Sherfinski of Hartland, Robert Sherfinski of Las Vegas, Nev., Diane (Jim) Graham of Waukesha, and Fay (Bob) Custer of Waukesha; 16 grandchildren; 18 great-grandchildren; nieces, nephews, other relatives and friends.
Andrew was further preceded in death by his son, Lee Sherfinski; his parents; two brothers; and two sisters.
Funeral services will be on Wednesday at at St. Henry Catholic Church, 400 N. Fourth St., Watertown, with Father Bernard Rott officiating. Burial will be in the parish cemetery with military graveside rites by the Watertown Veterans Council.
Family and friends may call on Wednesday from to at the church. Memorials to the American Cancer Society would be appreciated.
Schmutzler-Vick Funeral Home and Cremation Service is serving the family.