This file part of www.sainthenryparish.org website
Kathryn Schroeder
1920 - 2004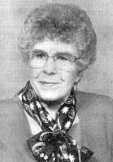 Kathryn A. Schroeder, 83, of 218 William St., Watertown, died February 16, 2004, at Watertown Memorial Hospital.
Funeral services were held at St. Henry's with the Rev. Bernard Rott officiating. Burial was in St. Henry's Cemetery.
The former Kathryn Semon was born Sept. 28, 1920, in Watertown, daughter of Frank and Catherine (Brigowatz) Semon. On Sept. 25, 1943, she married Edward N. Schroeder at St. Bernard's Catholic Church in Watertown.
Kathryn attended St. Bernard's Catholic Grade School and was a 1938 graduate of Watertown High School. She had been employed at the former Mid-State Shoe Factory in Watertown and at LaBelle Industries in Oconomowoc.
Kathryn was a member of St. Henry's and its Catholic Women's Club and Christian Mothers. She was also a member of the Watertown Memorial Hospital Auxiliary and the 500 Card Club.
Kathryn's love for baking made her an outstanding baker. She was a member of a cooking club. She was also an avid Packer and Brewer fan.
SURVIVORS:
Son                  Michael (Marilyn) Schroeder of West Chester, Ohio
Son                  Richard (Nan) Schroeder of Watertown
Son                  Gerard (Marianne) Schroeder of Watertown
Daughter             Laurie (Patrick) Vohen of Watertown
Brother              Francis Semon of Watertown
Sister               Blanche Pooch of Deerfield
Sister               Sally Marhofke, Oconomowoc
Sister               Loraine Wohlfeil, Oconomowoc
Sister-in-law        Mildred Semon of Watertown