website  watertownhistory.org
    ebook  History of Watertown, Wisconsin
Dorothy Ann "Dottie" Schneider
2016
Dorothy Ann "Dottie" Schneider passed away on Wednesday, Aug. 3, 2016, at Zinzendorf Hall.  Dottie was born in Pittsburgh, Pennsylvania, and lived most of her life in Watertown.  She served in the U.S. Marine Corps during World War II as a recruiter.
She married Aloysius Anthony Schneider, and he preceded her in death in 2000.  Together they owned and operated Schneider Jewelry in Watertown until retiring in 1985. Dottie and Al were active in many local business and community organizations. She was a longtime member of the American Legion Post #189, Women's Elks Auxiliary and St. Henry Catholic Church, where she participated and supported the church and school through numerous parish functions.
Dottie is survived by her children James (Nancy) Schneider of Fort Atkinson, Patricia (Thomas) Zimmerman of Naperville, Illinois, and Robert (Peggy) Schneider of Machesney Park, Illinois.  She is also survived by grandchildren Kaitlyn Schneider, Kyle Schneider, Sarah (Todd) Rogers, Ryan (Kiara) Zimmerman and one great-granddaughter, Sienna Rogers.
A Mass of Christian burial will be on Tuesday at 11 a.m. at St. Henry Catholic Church with Father Patrick Wendler celebrating.  Burial with military graveside rites will be at St. Henry Cemetery.  Family and friends may call on Monday from 5-8 p.m. at Schmutzler-Vick Funeral Home and Cremation Service and on Tuesday from 10-11 a.m. at the church.  A luncheon at Lindberg's by the River, 1413 Oconomowoc Ave., will follow the burial.  Memorials may be made to St. Henry School, Marquardt Foundation or Watertown Elks Lodge #666.
The family wishes to express appreciation to the staff of Zinzendorf Hall and Marquardt Manor for their extraordinary care during Dottie's stay.
Schmutzler-Vick Funeral Home and Cremation Service 500 Welsh Road Watertown
Cross Reference: 
SCHNEIDER JEWELRY
Watertown Daily Times, 11 06 1985
Al and Dotty Schneider, who have been operating a business in downtown Watertown for 32 years, plan to retire at the end of the year.  A retirement sale at their store, Schneider Jewelry, located at 309 East Main Street, will get underway Tuesday.  Hours for the sale will be from 10 a.m. to 7 p.m. Tuesday and 10 a.m. to 6 p.m. Wednesday through Saturday.  The Schneiders have been in business since November 1952 at various locations in the downtown area.  Their first store was located upstairs at 115 1/2 East Main Street.  From there, the business moved to 608 East Main Street where First State Savings is now located.  The Schneiders then bought out Chady Jewelers at 111 South Third Street when Ernest Chady retired.  They operated Schneider Jewelry at that location for 15 years, moving to their present site in 1970.
<![if !vml]>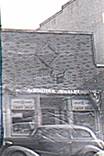 <![endif]>   1956 photo

History of Watertown, Wisconsin