This file part of www.sainthenryparish.org website
Dorothy Schneider
1920-2010
<![if !vml]>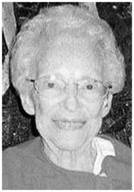 <![endif]>
Dorothy Schneider
Dorothy E. Schneider, 89, of Watertown, passed away on Friday afternoon, Jan. 1, 2010, at Zinzendorf Hall in Watertown.
A Mass of Christian burial will be held on Wednesday at 11 a.m. at St. Henry Catholic Church in Watertown with Father Brian Wilk officiating.  Burial will be in St. Henry Catholic Cemetery.
Relatives and friends may call at the Hafemeister Funeral Home on Tuesday from 5 to 7 p.m. and at the church on Wednesday from 10 a.m. until the time of the service.
The former Dorothy Ellen Harshbarger was born on July 21, 1920, in Watertown, daughter of Orville and Helen (Boeldt) Harshbarger.  Dorothy attended grade school in Watertown and was a 1939 graduate of Watertown Senior High School.  On May 2, 1942, she married Norman Schneider at St. Henry Catholic Church.
Dorothy traveled extensively on bus tours around the country and spent winters in Hawaii.  She enjoyed many hours of crocheting afghans, tablecloths and baby blankets.  Many of the baby blankets she made were donated to Children's Hospital in Milwaukee.  She also enjoyed jig-saw puzzles.
Dorothy is survived by four children, Linda (Randy) Schultz of Watertown, Nick (Jean Imig) Schneider of Port Orchard, Wash., Bill (Jean Pauli) Schneider of Vestal, N.Y., and David (Cheryl Greene) Schneider of Chenango Forks, N.Y.; eight grandchildren, Tony, Danny, Nikki, Skip, Jamie, Randy Jr., Brian and Steven; 15 great-grandchildren; three sisters-in-law, Bernice Finley of Watertown, Dorothy Nickel of Lake Mills and Dottie Schneider of Watertown; a brother-in-law; Erv (Jan) Schneider of Rockford, Ill.; nieces, nephews, other relatives and friends.
Dorothy was the last member of her immediate family, being preceded in death by her parents; her husband, Norman on Sept. 19, 1996; five brothers, Arlando, Leodis, Raymond, DeForest and Eugene; and three sisters, Marcella Harshbarger, Lorraine Lierman and L. Jane Herold.