This file part of www.sainthenryparish.org website
Allen T. Rothschadl
1936 – 2010
<![if !vml]>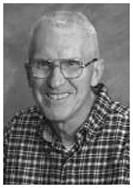 <![endif]>
Allen T. Rothschadl, 74, of Watertown, passed away on Monday, April 5, 2010, at his home with his wife, Bea, and two special caregivers, Kelly and Babette, at his side.
Allen was born on Feb. 23, 1936, in Watertown, son of Thomas and Esther (Schroeder) Rothschadl.  He served for six years in the Army National Guard, with one year at Fort Lewis during the Berlin Crisis.
He had married Sharon Stangler at St. Henry Catholic Church.  He then married Beatrice Hughes on March 31, 1990, in Madison.
Allen retired from AT&T after 27 years of employment.  He was a member of St. Henry Catholic Church, Watertown Amateur Radio Club, Watertown Outboarders and Lake Mills American Legion Post No. 67.
Allen had a very special companion, a precious poodle named Missy, who gave Allen much pleasure the last two years he suffered with Alzheimer's.
Survivors include his wife, Beatrice; two sons, Philip (Katie) Rothschadl of Waukesha and Andrew (Dawn) Rothschadl of Waunakee; stepdaughter, Donna (Paul) Crossman; grandchildren, Trevor and Katelyn Rothschadl, Aaron (Krista Wilke) Crossman and Miranda Schoenicke; great-grandchildren, Dylan and Riley Schoenicke; siblings, Patricia Heller of Lake Mills, Roger (Heidi) Rothschadl of Watertown and Jean (Fritz) Klentz of Watertown; nieces, nephews, other relatives and friends.
He was preceded in death by his parents.
A memorial service will be held on Saturday at 11 a.m. at St. Henry Catholic Church with Father Brian Wilk officiating.  Family burial will be in St. Henry Cemetery.
Family and friends may call Saturday from 9 to 11 a.m. at the church.
In lieu of flowers, memorials to Rainbow Hospice, Jefferson County Humane Society or the Alzheimer's Association would be appreciated.
Schmutzler-Vick Funeral Home and Cremation Service is serving the family.
Many thanks to all the wonderful girls from Country Nurses in Jefferson for their care of Allen.  Together, we all learned a lot about Alzheimer's, I couldn't have done it without you.
Cross References: