website  watertownhistory.org
    ebook  History of Watertown, Wisconsin
Gertrude M. Pitterle
1924 - 2014
<![if !vml]>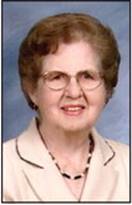 <![endif]>Gertrude M. Pitterle, age 89, Watertown, passed away on Saturday, Sept. 20, 2014, at Marquardt Hospice. A Mass of Christian burial will be held on Thursday at 11 a.m. St. Henry Catholic Church with Father Scott Jablonski celebrating. Burial will be in the parish cemetery. Family and friends may call on Thursday from 10 to 11 a.m. at the church. Online condolences may be made at svfuneralhome. com. Schmutzler-Vick Funeral Home and Cremation Service is serving the family.
Gertrude Marion Pitterle was born on Oct. 7, 1924, in Watertown the daughter of Henry F. and Clara E. (Roch) Pitterle. Gertrude worked her entire life at Brandt's, Inc., of Watertown, until her retirement.


Gertrude was a lifelong member is St. Henry Catholic Church where she sang in the choir and was a past member of the Parish Council. She spent many hours volunteering at St. Vincent de Paul, was a member and past officer of the Catholic Women's Club. Gertrude was a past and was a member and past officer of the Saturday Club, Watertown Senior and Community Center and AARP No. 3056.


Gertrude is survived by two sisters Dorothy Ambrose and Eleanor (Elmer) Ambrose, nieces and nephews Carol Ambrose, Diane Ambrose, David Ambrose, Kathy (Jerry) Andersen, Jim Ambrose, John (Jodi) Ambrose, Jeanne Ambrose, Bob (Patti) Ambrose and Cindy (Chris) Nash, greatnieces and -nephews, other relatives and friends
.

She was preceded in death by her parents and a brother-in-law, Heron Ambrose. Schmutzler-Vick Funeral Home and Cremation Service 500 Welsh Road Watertown

History of Watertown, Wisconsin