website† watertownhistory.org
††† ebook† History of Watertown, Wisconsin
Francis N. Pitterle
1934 - 2012
<![if !vml]>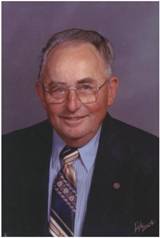 <![endif]>Francis N. Pitterle, age 77, passed away on Sunday, Jan. 30, 2012, at his home.
Francis was born on March 29, 1934, in Watertown, the son of Norbert and Marie (Yahna) Pitterle.† On Nov. 22, 1969, he married the former Carol (Werneberg) Derr and she preceded him in death on July 21, 1997.† Francis attended the Agriculture Short Course at UW-Madison and he had served in the U.S. Army from 1954 to 1956.† Francis had farmed in the town of Shields and had worked at Equity Co-op in Johnson Creek.† He was a member of St. Henry Catholic Church, the Watertown Agribusiness Club, the Dodge County Farm Bureau and the former town of Shields Volunteer Fire Department.† Francis was a former supervisor for the town of Shields for 25 years.† He enjoyed playing sheepshead, bowling, hunting and fishing.
Francis is survived by his children, Mark (Valarie) Pitterle of Beaver Dam and Kevin Pitterle of Watertown; stepchildren, Julie (Dave) Schmied of Watertown, Todd Derr of Watertown and Mike (Karen) Derr of Johnson Creek; grandchildren, Samantha and Sawyer Pitterle, a stepgrandson, Ben Schmied; a sister, Margaret Illian, of Watertown; a stepsister, Barbara (Robert) Schaefer of Watertown; and nieces, nephews, other relatives and friends.
He was further preceded in death by his parents and his stepmother, Hilaria (Klecker) Pitterle.
A Mass of Christian burial will be held on Thursday at 11 a.m. at St. Henry Catholic Church with Father Jorge Miramontes celebrating.† Burial will be in Oak Hill Cemetery.† Family and friends may call on Wednesday from 4 to 8 p.m. at Schmutzler-Vick Funeral Home and Cremation Service and on Thursday after 10 a.m. at the church.† Memorials to St. Henry Catholic Church or Rainbow Hospice, would be appreciated.† Online condolences may be left at watertownwifuneralhome.com. Schmutzler-Vick Funeral Home and Cremation Service 500 Welsh Road Watertown
Cross reference:
Badger 4-H Club Aids Firemanís Toy Project (1950)

History of Watertown, Wisconsin