This file part of www.sainthenryparish.org website
O'Brien, William, Sr.
1939 - 2002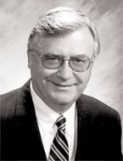 William "Bill" O'Brien Sr., 63, of Watertown, died unexpectedly on Dec. 17, 2002, at Watertown Memorial Hospital.
Funeral services were held at St. Henry Catholic Church with burial in St. Bernard's Cemetery.
Bill was born July 14, 1939, in Chicago, Ill., son of William and Cecelia (Pandel) O'Brien. He married the former Donna Melius on July 15, 1961, at St. Bernard's Catholic Church in Watertown.
For many years he owned Wisconsin WetGoods, Inc., a local beer distributorship. The business was acquired by O'Brien and David Nielsen in February of 1978 when the two men purchased Klink Distributing. At that time the business was located at what is now the site of Fanny P. Lewis Park on North Water Street.
Two years later the business was moved to 822 West St. In 1985 Nielsen sold his share of the business to O'Brien. He continued to operate it until it was sold to Ottschweitzer Distributors Inc., of Janesville in September of 1998.
O'Brien also held an ownership in Resource Recovery, a pallet repair and recycling business, Honk Trucking, Fawn Lake Lumber Company in Mercer, and a warehousing business he operated out of the former beer distributorship on West Street.
In addition to active leadership in his business ventures, O'Brien was a community leader, spearheading or playing a key role in a number of community projects. He was deeply involved in the annual River Days celebration, the precursor to the start of the Watertown Riverfest celebration in 1987. It was during those River Days celebrations that O'Brien advanced the concept of having the Main Street bridge named in honor of an individual who had contributed much to the community in volunteer service. That tradition of bridge naming continues today.
He was a member of the Watertown Riverfest steering committee for many years and played a key role in the original fundraising efforts to make the first event possible.
He had also been an original investor and part owner of the Watertown Health and Wellness Center and dedicated a great deal of time and resources in helping to make the center a financial success.
He was a charter member of the Watertown Area Community Foundation, a local organization that now has assets of well over $3 million.
O'Brien had been active in the Watertown Rotary Club for a number of years and was a 1988 recipient of Rotary's highest award when he was named a Paul Harris Fellow.
Watertown's Head Start program is one of the beneficiaries of O'Brien's community service. He was the originator of a program where friends contributed toward a fund to purchase Christmas gifts for children involved in the Head Start program. This week he was scheduled to do his annual stint as Santa Claus as the gifts were presented.
He was a member of the group and was formed to raise $600,000 for the private sector's share of the $1.7 million Watertown Family Aquatic Center. He had also been active in a variety of other activities and fund-raising efforts to make Watertown a better community. He was an accomplished magician and often did shows for community groups and then donating his stipend to charities that were of special interest to him.
He attended Quigley Preparatory Seminary and the Major Seminary in Mundelein, Ill., for two years.
Bill was a member of St. Henry Catholic Church and was a very active member of the Watertown community, having been involved on many boards of directors and in charitable organizations. He was also a founding member of a number of groups in the city.
SURVIVORS:
Wife                    Donna O'Brien of Watertown
Two sons                William (Carrie Jo) O'Brien Jr. and
John (Christine) O'Brien, both of Watertown
Three grandchildren     Kelly, Billy and Joshua
Mother                  Cecelia O'Brien of Peoria, Ariz.
Brother                 Bob (Jill) O'Brien of Oak Lawn, Ill.
Five sisters            Jeri (Joe) Keating of West Palm Beach, Fla.
Rene (Bob) Fitzgerald of Tinley Park, Ill.
Nancy (Terry) Welsh of Williams Bay,
Cissy (Gill) Bryan of Tinley Park, Ill.,
Mary Pat (Robert) Healey of Peoria, Ariz.
PRECEDED IN DEATH:
His father and two infant sons