This file part of www.sainthenryparish.org website
Irene Neis
1912 - 2004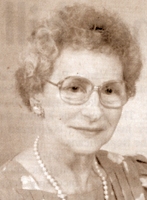 Irene M. (Lessner) Neis, 92, of London Lodge CBRF in Cambridge, died December 4, 2004, at London Lodge where she had made her home for the past 10 years.
Funeral services were held at St. Henry's with the Rev. Bernard Rott officiating.
Burial was in Oak Hill Cemetery.
Memorials were to London Lodge or Alzheimer's Association.  Schmutzler-Vick Funeral Home and Cremation Service served the family.
The former Irene M. West was born December 2, 1912, in the town of Milford, daughter of Phillip and Agnes (Hrobsky) West. On July 6, 1929, she married George Lessner in Waukegan, Ill. He preceded her in death on Jan. 12, 1971. On June 28, 1975, she married Oscar Neis at St. Henry's Catholic Church. He preceded her on September 26, 1990.
Irene had been employed at Scotts Variety Store and during World War II she worked in the defense plants. Later on after the war, she was a department manager for W. T. Grants Department Store in Milwaukee for more than 20 years. While living in Milwaukee, she was an avid bowler.
After retirement, she and her husband built a house in Hayward. They lived there until her husband, George, passed away and she moved back to Watertown. She enjoyed her pets and making crafts.
Irene was a member of St. Henry's Catholic Church.
SURVIVORS:
Son: Robert (Shirley) Lessner of Watertown
Five grandchildren, Michael (Val) Lessner, Mark (Lisa) Lessner and Patrice (John) Walter, all of Watertown, Richard (Sonja) Lessner of McFarland and Christine Preston of Rockton, Ill.
Thirteen great-grandchildren, Todd (Jodi), Ryan, Justin, Krista, Hillary, Robbie, Jessica, Amanda and Joseph Lessner, Caleb and Ethan Walter, Alisha and Jamie Connelly
One great-great-grandson, Dylan Connelly
PRECEDED IN DEATH:
She was further preceded in death by her parents and a sister, Ethel Cross.