This file part of www.sainthenryparish.org website
Penelope McDonald
1962 - 2007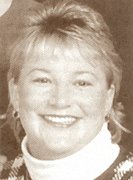 Penelope McDonald
Penelope "Penny" S. McDonald, 45, of Watertown, passed away Sunday, Dec. 30, 2007, at Countryside Home in Jefferson.
A Mass of Christian burial will be held on Friday at 11 a.m. at St. Henry Catholic Church in Watertown with the Rev. Brian Wilk officiating.
Burial will be in Oak Hill Cemetery.
Visitation will be held at the Hafemeister Funeral Home on Thursday from 4 to 8 p.m. and at the church on Friday from 10 a.m. until the time of the Mass.
Penny was born in Fort Atkinson on Aug. 15, 1962, daughter of Aloysius "Allie" and Stella (Krause) Haas. She had been married to David B. McDonald.
She graduated from Watertown High School in 1980 and graduated with honors from Madison Area Technical College in 1993, receiving her license as a dental hygienist. She had been employed in Watertown for Dr. Cary Gillingham & Dr. Michael Wurtz and the late Dr. Stan Larsen.
Penny was a member of St. Henry Catholic Church in Watertown and had served as the athletic director of the school. She enjoyed camping, volleyball, bowling and reading.
She is survived by her parents, Aloysius and Stella Haas of Watertown; a daughter, Heather (fiancé, Timothy Bradley) McDonald and a son, Matthew McDonald, both of Watertown; brothers and sisters, Steven (Carol) Haas of Osceola, Lonnie (Laurel) Haas of Watertown, Richard (Julie) Haas of Clyman, Laurie (Daniel) Schilling of Watertown, Allison (Mark) Knoll of Watertown and Lisa (Douglas) Martin of Pipersville; a half-sister, Sherry Carpenter of Beloit; 20 nieces and nephews; also numerous aunts, uncles, other relatives and friends.
Preceding Penny in death were her maternal and paternal grandparents; nieces, Lianne Knoll and Cassie Haas; and her dearest, best friend, Sherry Soto.
Hafemeister Funeral Home 611 E. Main St. Watertown