website  watertownhistory.org
    ebook  History of Watertown, Wisconsin
William F. Martch
1838 - 1914
Watertown Gazette, 01 22 1914
<![if !vml]>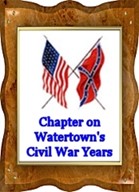 <![endif]>
William F. Martch, 210 Emmet Street, died on Monday, January 19, 1914.  Deceased had been in poor health about two years and Sunday night became paralyzed, which caused his death.
Deceased was born June 28, 1838, in Germany, and when 15 years of age came to America and learned the carpenter trade, at which he was employed many years.  April 18, 1861, he enlisted in Co. A, 3d Wisconsin Volunteer Infantry, as sergeant.  Owing to disability he was discharged from the service and on Feb. 14, 1865, was mustered out.
In 1864 he was married to Margaret Nimm, who with five children survive him.  The children are Mrs. Gustave Martch, Mrs. John Hefty, Addie and Della Martch of this city, and William P. Martch of Washington, D. C.  He was a member of O. D. Pease Post G. A. R.  His funeral was held this morning from St. Henry's church under the auspices of the G. A. R.
Burial in St. Henry's cemetery.  

History of Watertown, Wisconsin