website  watertownhistory.org
    ebook  History of Watertown, Wisconsin
Margaret M. Kreuziger
1919 - 2006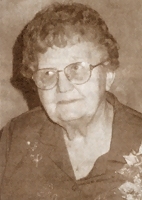 Margaret M. Kreuziger, 87, of Watertown, died June 8, 2006, at Marquardt Memorial Manor.
Funeral services will be held on Monday at 10:30 a.m. at St. Henry's Catholic Church with the Rev. Bernard Rott officiating.  Burial will be in the parish cemetery.
Schmutzler-Vick Funeral Home and Cremation Service us serving the family.
Margaret was born on April 16, 1919, in Ixonia, daughter of Ben and Esther (Lierman) Berg. On Nov. 30, 1939, she married Norbert Kreuziger at St. Henry's Church. He preceded her in death on June 3, 1985. Margaret had farmed with her husband in the town of Emmet.
Margaret was a member of St. Henry's, member and president for 22 years of Catholic Knights Branch No. 120; Christian Mothers and Altar Confraternity; Watertown Senior and Community Center; AARP; delivered Meals on Wheels; served funeral and wedding meals; and had served as a 4-H leader for many years.
Survivors include her children, Kathryn Witte of Lake Geneva, Edward Kreuziger of Watertown, Patricia (Kenneth) Reesman of West Allis, Daniel (Joan) Kreuziger, Norbert Kreuziger Jr. and James Kreuziger, all of Watertown; 10 grandchildren; nine great-grandchildren; nieces, nephews, other relatives and friends.
She was further preceded in death by an infant son; her parents; two sisters, Marcella Stangler and Rosemary Zastrow; and a brother, Sylvester Berg.