website  watertownhistory.org
    ebook  History of Watertown, Wisconsin
Joanne E. Kraemer
1935 - 2016
<![if !vml]>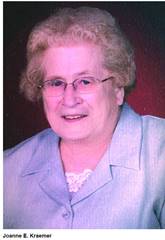 <![endif]>
Joanne E. Kraemer, 81, of Watertown, passed away on Thursday, March 31, 2016, at Marquardt Health Care.
A Mass of Christian burial will be held on Monday at 11 a.m. at St. Henry Catholic Church with Father Scott Jablonski celebrating.  Burial will be in the parish cemetery.  Family and friends may call on Sunday from 4-8 p.m. at Schmutzler-Vick Funeral Home and Cremation Service and on Monday from 10-11 a.m. at the church. A rosary will be recited on Sunday at 7 p.m. at the funeral home. Memorials may be made to St. Henry Church or school or Marquardt Health or Hospice.
Joanne Elizabeth Oestreich was born on March 16, 1935, in Watertown, the daughter of Ruben and Frances (Weyland) Oestreich. On June 11, 1955, she married James Kraemer at St. Henry Catholic Church. Joanne had been an X-ray tech at the former St. Mary's Hospital in Watertown. She was a member of St. Henry Catholic Church, Christian Mothers and Altar Confraternity and the Catholic Women's Club.
Joanne loved to spend time with her grandchildren, passing along her love and care for others and her strong faith. She enjoyed bowling, playing cards, reading, traveling, cooking, baking and entertaining.
She is survived by her husband, Jim; their children Mary (Dan) Christian, Donna (Larry) Smith, Tony (Sue) Kraemer, Richard (Mari) Kraemer, Steve (Sheri) Kraemer and Mike (Rhonda) Kraemer. She is survived by grandchildren Emily (Jakoah Brgoch), Michael and Elizabeth Christian, Sherry (Rob) Harms, Katie and Tony Kraemer, Megan (Dave) Karl, Ryan and Kevin Kraemer, Jenny Kraemer, Julia (Luke) Kaster, Jacob Kraemer, Garrett (Kristine Madison) Fischer, Christina (Cody) Roehl, Bradley and Angel Fischer and Tyler Kraemer; great-grandchildren Andrew and Madalyn Harms, Avery Roehl, Olivia Kaster and Gunnar Roehl. Joanne is also survived by sisters Mary (LaVern) Wanke and Rose Haznaw; brothers Richard (Jodi) Oestreich and James (Judith) Oestreich; nieces, nephews, other relatives and friends.
She is preceded in death by her parents and a brother-in-law, Don Haznaw.
Joanne's family wishes to thank her caregiver Tracey Bargo, the staff at Watertown Regional Medical Center and Marquardt Health Care for their loving care.
Schmutzler-Vick Funeral Home and Cremation Service
<![if !vml]>

<![endif]>
History of Watertown, Wisconsin