This file part of www.sainthenryparish.org website
Memorial Mass for Lt. Robert Klecker
Missing on Bombing Flight for a Year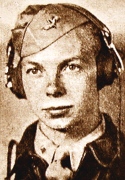 A memorial Mass was offered at St. Henry's Catholic Church on Wednesday, July 25, 1945, for Lt. Robert H. Klecker, son of Mr. and Mrs. William Klecker, route 2, who was presumed dead after having been reporting missing in action a year earlier, on July 7, 1944, while serving with the American air forces based in England.  Because of his being missing in action, there is no gravestone at the church cemetery for this war veteran.
Previous to the mission on which he was reported lost, he had participated in only two previous missions. On his last mission he served as a navigator due to the fact that the regular navigator was assigned to lead the group. That mission took him to Achersleben, Germany.
Circumstances surrounding his loss were not known. However, the recovery of the pilot's body on the plane near Great Yarmouth, England, indicated that the plane went down in the North Sea.
According to an act of congress, the absence after 12 months must be terminated by a presumptive finding of death in such cases.
Lt. Klecker was survived by his parents and two sisters and four brothers, Helen and Joanne, at home; Lt. Ray Klecker, at the time serving as a radar man on a B-29 at Saipan in the Marianas; Gerald, recently discharged from the army after six years of service; and Gene and William, Jr., both at home.
Lt. Klecker was born Aug. 31, 1924 at Clyman and attended and graduated from St. Henry's school, after which he attended and graduated from Watertown High school, class of 1942. While in high school he was active in the band and orchestra.
He enlisted on November 9, 1942, in the Army Air Corps and was called to active duty January 28, 1943. He took his early training at Ellington Field, Texas, later being stationed at Alva State College, Alva, Okla. On February 5, 1944 he graduated from the AAF bombardier school at San Angelo, Tex., and received his wings as a bombardier-navigator and was commissioned a second lieutenant at that time [1].
The graduates were assigned to operational training units, where they joined other crew members to form aerial combat teams.
The Army Air Force declared that these bombardier graduates are the most "thoroughly trained in the world." They are masters of the famous U. S. bombsights; they can guide a bomber to its destination and back; they have learned the art of blasting enemy fighters from the sky; they are camouflage experts; they are as familiar with aerial views of targets in Germany and in the South Pacific as they are with their home field. They have been schooled in map reading, meteorology, plane and ship identification, and even the prediction of errors. They are experts in the business of guiding their bombers through evasive action necessary to avoid enemy anti-aircraft fire [2].
He had also received gunnery training at Laredo, Tex. He spent his only furlough at home, February 7 to 17, 1944. After completing his leave he was assigned to a B-24 bomber at Charleston, S. C., where he took his crew training.
In June of 1944 he was sent overseas and after some additional training was assigned to a bombardment group in England.
In May, with his older brother missing for 10 months, high school senior  Gene Klecker delivered the Lincoln Gettysburg address at Watertown's Memorial Day service [3].
Friends and classmates recall him as "a conscientious and serious young man, well behaved and with an appreciation for music and the fine things of life. He had about him an air of promise that indicated for him a life of success and accomplishment, a promise which has now been ended by war, as have so many such youthful, hopeful careers."
The Order of the Purple Heart
Conferred on Lt. Robert H. Klecker
Word of the posthumous award was received by his parents, two days after a memorial requiem Mass was held for Robert.  The message from the war department said the medal would be sent to them [4].
_______________________
[1] Watertown Daily Times, 07 25 1945, "Memorial Mass July 25 for Lt. Robert Klecker"
[2] Watertown Daily Times, 02 15 1944, "Robert Klecker Aerial Graduate"
[3] Watertown Daily Times, 06 07 1945, "Lt. Gerald J. Klecker Will Receive Discharge"
[4] Watertown Daily Times, 07 27 1945, "Gets Posthumous Purple Heart"