This file part of www.sainthenryparish.org website
Leon Klecker
1924 - 2005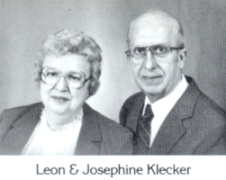 1987
Leon H. Klecker, 81, formerly of Watertown, passed away November 27, 2005, at Countryside Home in Jefferson.
Funeral services will be at St. Henry's Catholic Church with Father Bernard Rott officiating. Military rites will be conducted by American Legion Post No. 189.
Memorials to the Alzheimer's Association would be appreciated.
Schmutzler-Vick Funeral Home and Cremation Service is serving the family.
Leon was born on May 12, 1924, in the town of Emmet, the son of Edward and Cecilia (Pitterle) Klecker. He was a 1942 graduate of Watertown Senior High School. Leon served in the U.S. Navy during World War II in the Asiatic/Pacific Theater.
On June 17, 1950, he married the former Josephine Peterson in Jefferson. He had been employed by the former Klecker Implement and at Carnation in Oconomowoc. He was a member of St. Henry's, the Catholic Knights, the Knights of Columbus and American Legion Post No. 189.
Survivors include his wife Josephine; his children,
Thomas (Diane) Klecker of Battle Creek, Mich.,
Sandra Klecker of Eau Claire,
Debra Klecker of Seattle, Wash.,
Susan (Terry) Linn of St. Peters, Mo.,
James Klecker of Hartland,
David Klecker of Farmington, Minn.,
Linda (Rev. Douglas) Bisbee of Sherwood, and
Jolene (Michael) Preston of Fort Atkinson;
13 grandchildren; 1 great-grandson; sisters, Dorothy (Earl) Kreitzman of Waukesha, and Theresa McConville of Watertown; nieces, nephews, other relatives and friends.
He was preceded in death by a grandson; his parents; brothers Harold, Lawrence and Cyril Klecker; and sisters, Rose Marie Boyum, Loretta Carroll and Margaret Bohlman.