This file part of www.sainthenryparish.org website
Richard G. Kelm
1937 - 2005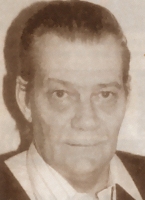 Richard (Dick) G. Kelm, 68, of Watertown, died October 18, 2005, at Watertown Memorial Hospital following a lingering illness.
Funeral services will be held at the Hafemeister Funeral Home in Watertown with the Rev. Bernard Rott of St. Henry's officiating.  Military rites will be conducted by the Watertown American Legion Post No. 189.  Burial in St. Henry's Cemetery.
Dick was born Feb. 4, 1937, in Watertown, son of John F. and Rachel M. (Smith) Kelm. On Dec. 16, 1995, he married the former Joyce Kunz in Watertown.
Dick was a veteran of the Korean War. Being wounded twice, he served in the United States Army as a ranger and in the Army Corps of Engineers. He was a member of Watertown American Legion Post No. 189.
Dick had been employed most of his life as a cross country truck driver. He had also been employed at Fisher-Barton Inc. in Watertown, Braasch Brothers Carnival and had been a tree trimmer. Dick enjoyed fishing.
Survivors include his wife, Joyce Kelm of Watertown; a daughter, Debbie (Jerry) Kelman of Watertown; a stepson, Brian (Cheri) Eiselman of Watertown; two sisters, Pat Williams of Hustisford and Helen (Rudy) Lange of Watertown; a half-brother, Victor Mahler of Tennessee.
He was preceded in death by his parents and a sister, Betty Jean Kelm.
Hafemeister Funeral Home, 611 E. Main St., Watertown