website  watertownhistory.org
    ebook  History of Watertown, Wisconsin
Dean D. Hrobsky
<![if !vml]>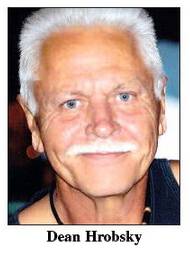 <![endif]>Dean D. Hrobsky, 59, of Watertown, passed away Sunday evening, Aug. 12, 2012, at the Rainbow Hospice Care Inpatient Center in Johnson Creek following a courageous battle with cancer.
Funeral services will be held Friday evening at 7 o'clock at the Hafemeister Funeral Home in Watertown with Father Jorge Miramontes of St. Henry Catholic Church officiating. Military rites will be provided by the American Veterans AMVETS Post No. 35. Burial will be at a later date at St. Henry Catholic Cemetery in Watertown. Relatives and friends are asked to please wear casual attire to the visitation at the funeral home on Friday from 5 p.m. until the time of the service. Memorials, if desired, would be appreciated to the family.
The Hafemeister Funeral Home of Watertown is in charge of arrangements. Online condolences may be made at www.hafemeisterfh.com.
Dean David Hrobsky was born on April 15, 1953, in Watertown, the son of Harvey and Mabel (Parpart) Hrobsky.
Dean served three years in the United States Army, from Oct. 15, 1970-Oct. 5, 1973. He had been employed at MasterMold Inc. in Watertown for 24 years. He was a member of the Izaak Walton League for many years. He was also a member of the Watertown Moose Lodge No. 830, ABATE, and the American Veterans AMVET Post No. 35. He enjoyed riding his Harley, hunting and fishing. Dean loved spending time with his grandchildren.
Survivors include his two sons, Chad (Shay Jordan) Hrobsky and Jerad Hrobsky, both of Watertown; his wife of 31 years, his two grandchildren, Cameron Hrobsky and Greenlee Hrobsky; his brother, Harvey Jr. Joe (Bonnie) Hrobsky and his sister, Renee (Scott) Braker, all of Watertown, his in-laws, Dillon (Dorothy) Hale of Hudsonville, Mich., and his best friend, Gunner. Dean is further survived by numerous nieces, nephews, other relatives and friends. He was preceded in death by his parents and a brother, Harlyn Hrobsky.
Hafemeister Funeral Home 611 E. Main St. Watertown

History of Watertown, Wisconsin