This file part of www.sainthenryparish.org website
Leroy E Heller
1925 - 2004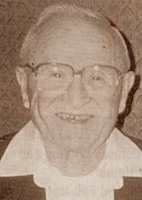 Leroy F. Heller, 79, of Watertown, died November 26, 2004, at Watertown Memorial Hospital.
Funeral services were held at the Schmutzler-Vick Funeral Home and Cremation Service with the Rev. Bernard Rott officiating.
Family burial was in St. Henry's Cemetery.
Leroy was born on September 12, 1925, in Watertown, son of Charles and Elsie (Karstoff) Heller. He served in the United States Army during World War II in the European Theater. On July 19, 1952, he married the former Eleanor Hady in St. Henry's Rectory.
Leroy had been employed at Waukesha Engine Division of Dresser Industries for more than 37 years.
Leroy was a member of St. Henry's, International Association of Machinist and Aerospace Workers and Spring City Lodge 1377 of the Waukesha Labor Temple.
SURVIVORS:
Wife              Eleanor
Daughter          Kathleen M. Heller of Watertown
Daughter          Patricia R. (John) Juderjahn of Hubbleton
Granddaughter     Crystal Lynn Juderjahn
Sister            Norma (Harold) Trumph of Lake Mills
Sister            Arburtus (Arnold) Zubke of Lebanon
PRECEDED IN DEATH:
Parents
Brother           Cark Heller
Brother           Herbert Heller
Brother           James Heller
Brother           Frederich Heller
Brother           Elroy Heller
Brother           Ardon Heller
Brother           Clarence Heller
Sister            Dorothy Thomas