This file part of www.sainthenryparish.org website
Leo Haydock
1919 - 2005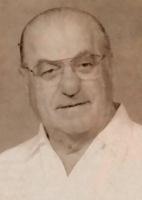 Leo P. Haydock, 85, of Watertown, died July 20, 2005, at Watertown Memorial Hospital.
A Mass of Christian burial was held at St. Henry's Catholic Church in Watertown with the Rev. Bernard Rott officiating. Burial with military rites followed in Oak Hill Cemetery.
Haydock was born on Dec. 19, 1919, in Biron, son of the late Louis and Julia (Ornowski) Haydock. He married the former Catherine Prusynski on June 26, 1947. She preceded him in death on Nov. 18, 1987. He married the former Ruby Ogden on Sept. 24, 1988, in Watertown.
Leo graduated from Lincoln High School in Wisconsin Rapids and attended the University of Wisconsin- Madison for 2 1/2 years. He served in the United States Army from 1943 to 1946. The majority of his military career was with the 41st Division in New Guinea, the Philippines and later with the occupational troops in Japan.
After many years of association with the LP gas business in Wisconsin and Illinois, he owned and operated LP gas plants in Milwaukee, Hartland and Watertown until his retirement on Dec. 31, 1985. He was president of Hydrocarbons Inc. of Tulsa, Okla., and vice president of Midwest Propane Inc. of Watertown serving the LP gas industry. He was a member of the board of directors of the Wisconsin LP Gas Association for 23 years, serving as president in 1966.
He was a member of American Legion Post No. 189 of Watertown and Watertown Country Club, serving as president of the country club for two years. He was a member of the Watertown Elks Club and later the Naples, Fla., Elks Club for a total of 36 years.
He was a member of St. Henry's in Watertown and San Marco Catholic Church of Marco Island, Fla.
Leo is survived by his wife, Ruby of Watertown; four sons, Michael (Tekla) Haydock of Watertown, Daniel (Julie) Haydock of Watertown, Jon Haydock of Watertown and Jeffrey Haydock of Racine; a daughter, Joanne (Daryl) Schuett of Rochester, Mich.; a stepdaughter, Cindy Bauer of Middleton; a stepson, Randall Ogden of Middleton; eight grandchildren; a sister, Louise Abel of Wisconsin Rapids; many nieces, nephews, other relatives and friends
He was preceded in death by three brothers and two sisters.