This file part of www.sainthenryparish.org website
Robert R. Haeger
1932 - 2011
<![if !vml]>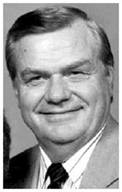 <![endif]>
Robert Raymond Haeger, 78, of Watertown, was lovingly surrendered to his heavenly father on Thursday, Jan. 13, 2011.  After a long courageous battle with cancer, he passed away peacefully at home surrounded by his family.
Bob was born in Milwaukee on Oct. 18, 1932, son of Louis and Viola (Verberg) Haeger.  He was a proud defender of the American flag, serving in the Marine Corps during the Korean War.
On July 12, 1952, he married the former Margaret "Peggy" Seymour at Holy Redeemer Church in Milwaukee.  Bob was employed at Krueger Printing in Brookfield, Perry Printing in Waterloo and Baraboo and W.D. Hoard in Fort Atkinson.
Bob was a member of St. Henry Catholic Church for 45 years, serving as the athletic director, basketball coach, religious education instructor, communion distributor and Mass commentator.
Bob enjoyed many happy years of retirement during which he refinished countless pieces of furniture for family and friends. He believed in treating his neighbors and friends as he would have wanted to be treated by mowing their lawns, plowing their driveways and performing repairs on their houses, vehicles or whatever needed fixing.
Bob's greatest treasure was his family.  He will be deeply missed by his wife of 58 1/2 years, Peggy of Watertown; five sons, four daughters and 24 grandchildren, Robert (Cindy) of Hales Corners, Dr. Katie (Dr. Quintin) Sleigh, Emmalee, Rob and Alex; Mathew of Janesville, Jessica and Andy; Louise (Frank) Sharpless of Neenah, Nick, Matthew, Annalise and Nathan; Kristine (Mark) Peters of Watertown, Cory (Jessica Pillsbury) and Kay (Michael) Parham; Jennine (Clinton) Schildbach of Watertown, Megan, Hannah and Lillie; Daniel (special friend Claire) of Watertown, Ben, Jenny and Erin; Michael (Maureen) of Germantown, Johnny, Alex and Colin; Mary (Ron) Baumgarten of Reedsburg and Christopher (Lelia) of Oak Creek, Edward, William and Michael.
Bob is further survived by one sister, Shirley (Joseph) Savage of Two Rivers; one brother-in-law, Jack (Audrey) Seymour of Menomonee Falls; one sister-in-law, Sally Heinitz of Colgate; numerous cousins, nieces, nephews and friends.
Bob was greeted in heaven by his mother and father; his stepfather, A. W. Hildebrandt; his brother, Earl; his sister, Mary Ann Hirn; and daughters-in-law, Kristi Haeger and Julie Haeger.
The family requests in lieu of flowers, memorials in Bob's name be given to St. Henry's Parish.
Bob's family is graciously appreciative of the support and care given to Bob during his journey by Dr. Bylow's team at Froedtert Hospital and Rainbow Hospice.
A Mass of Christian Burial for Bob will be held on Tuesday at 11 a.m. at St. Henry Catholic Church with Father Brian Wilk and Father David Timmerman concelebrating.  Burial will be in the parish cemetery.
Family and friends may call on Monday from 4 to 7 p.m. at Schmutzler-Vick Funeral Home and Cremation Service and on Tuesday after 10 a.m. at the church.