This file part of www.sainthenryparish.org website
Paul Gruss
1945 - 2005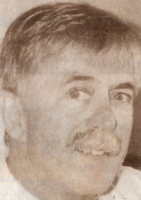 Paul M. Gruss
Paul M. Gruss, 60, of Watertown, died on Sunday, June 5, 2005, peacefully at his home.
A Mass of Christian burial was held at St. Henry's with the Rev. Bernard Rott officiating. Burial was in St. Henry's Cemetery.
The Hafemeister Funeral Home was in charge of arrangements.
Paul was born May 18, .1945, in Chardon, Ohio, one of 13 children born to James and Audrey  (Richmond) Gruss. He married Marlene Schwartz on Dec. 28, 1993.
Paul served in the United States Army for two years, during the Vietnam War. He had been employed as a route salesman for Sara Lee for the past 24 years.
Paul was a member of St. Henry's, serving as an usher for more than 20 years. He enjoyed bowling, boating and camping. His greatest joys were his children and grandchildren.
Surviving are his wife, Marlene Gruss of Watertown; two sons, Jason (Kristin) Gruss of Fort Drum, N.Y., and Josh (Calla) Gruss of Atlanta, Ga.; two stepsons, Tim (Sue) Braatz and Peter (Jenny) Braatz, both of Watertown; five grandchildren, Kaitlyn Gruss, Kyle Gruss, Abby Braatz, Cloey Braatz and Lindsey Braatz; seven brothers and five sisters; nieces and nephews, other relatives and friends.
He was preceded in death by his wife of 23 years, Rae Ann Ebert-Gruss, and his parents.