This file part of www.sainthenryparish.org website
Henry Fendt, Jr
1889 - 1948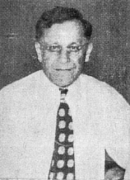 Henry M. Fendt, 311 North Fourth Street, died suddenly Saturday night, June 12, 1948, at the Riverside Park pavilion while attending a wedding caption. He was stricken with a cerebral hemorrhage a short time after arriving at the park with his wife.  He collapsed on the floor and was dead almost immediately.
Mr. Fendt was the eldest son of Mrs. Augusta Fendt and the late Henry Fendt of Watertown. He was born in Watertown Sept. 5, 1889 and had lived here all his life.  He was married in St. Henry's Catholic Church to Miss Josephine L. Kioes on Jan. 9, 1918.
Mr. Fendt was a member of St. Henry's congregation, the Holy Name society, Watertown Post No. 1349, Catholic War Veterans and the Pitterle-Beaudoin post of the American Legion. He saw service in World War I.
Mr. Fendt had been a member of the board of water commissioners for 25 years and in recently served as president of the board.  He was for many years a cigarmaker here. In recent years he had been employed by the Kopp Sheet Metal shop.
One of the most widely known men in Watertown, Mr. Fendt had always been active in local Catholic circles. He was for more than 35 years a member of the parish choir at St. Henry's church. During the pastorate of the late Rev. Philip Schweitzer he was an active member of St. Philip's society, now disbanded, and had taken part in many amateur theatricals which for years were a regular part of the social life of the parish. Later he was affiliated with other groups which staged plays regularly in St. Henry's hall.
R. M. Hahn, director of St. Henry's choir, who is rounding out 35 years there, said in a tribute paid to Mr. Fendt that he had been a very dependable and valuable member of the choir and that his friendship had been treasured over the years. "I shall miss him," Mr. Hahn said. He added that during the entire period Mr. Fendt had served as choir librarian.
Members of the board of water commissioners also joined in paying tribute to Mr. Fendt for his conscientious and faithful service to the city.
A military funeral was held, with the American Legion in charge.
The funeral was in St. Henry's Church and the Rev. A. H. Foltz officiated. Interment was in St. Henry's Cemetery.
SURVIVORS:
Wife       
Son         Francis Fendt
Son         Jerome Fendt
Son         Gilbert Fendt
Mother     
Sister      Magdalene Fendt
Sister      Anna Fendt
Brother     Gerhard Fendt
Brother     Isadore Fendt
Brother     Theodore Fendt
Brother     Eugene Fendt
Brother     Raymond Fendt
Brother     Alois Fendt
Brother     Frederick Fendt