This file part of www.sainthenryparish.org website
R. W. "Duke" Engel
1933-2003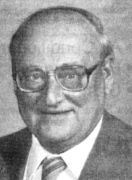 Russell "Duke" W. Engel, 69, of Watertown, died on Monday, February 3, 2003.
Funeral services were held at St. Henry's Catholic Church and burial was in the church cemetery.
Duke was born on May 26, 1933, in Watertown, son of Walter and Gertrude (Meyer) Engel. He had served in the United States Army during the Korean Conflict.
On Sept. 21, 1953, he married the former Kathleen Richter at St. Henry's.
Duke had been employed by Wisconsin Natural Gas Company for 26 years. He was a member of St. Henry's, the former Holy Name Society and was a life member of the Watertown Humane Society.
Duke worked with fellow parishioner Eddie Wanke for 30 years at the Gas Company and they played slowpitch and bowled together just as many years. Duke was a convert to Catholicism a few years after he married.
Duke Engel was an avid bowler and had been bowling secretary for 31 years. He was inducted into the Bowling Hall of Fame.
SURVIVORS:
Wife              Kathleen
Daughter          Mary Beth (Robert) Schuld of Jefferson
Daughter          Kathleen (Gene) Heyrman of New Berlin
Son               Michael (Lisa) Engel of Oregon
Son               Daniel Engel of Madison
Daughter          Judith (James) Zimmerman of Watertown
12 grandchildren
Brother           Milton Engel of Cary, Ill.
Brother           Harold Engel of White Oak, Texas
Brother           Donald Engel of Watertown
PRECEDED IN DEATH:
He was preceded in death by his parents.