This file part of www.sainthenryparish.org website
Lester H. Else
1930 - 2005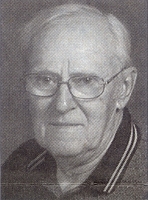 Lester H. Else, 74, of Watertown, died January 30, 2005, at St. Mary's Hospital in Madison with his loving family at his side. A Mass of Christian burial was held at St. Henry's with the Rev. Bernard Rott officiating.
<![if !vml]>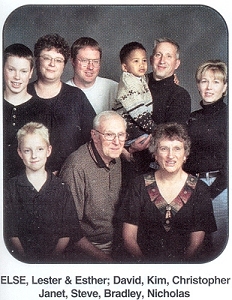 <![endif]>Burial was in St. Henry's Cemetery, with military graveside rites conducted by Watertown American Legion Post No. 189.
Lester was born May 6, 1930, in Watertown, son of Arthur and Christina (Dietz) Else. He married the former Mamie Esther Lueck on Sept. 22, 1956, at St. Henry's.
Lester loved his job at Bethesda Lutheran Home in Watertown where he transported residents for the past nine and one-half years. Prior to that he had been employed at Lindberg Hevi-Duty in Watertown, retiring in 1995 after 38 years of service.
Lester served in the United States Army's 57th Tank Battalion, 2nd Armored Division, during the Korean War and was stationed in Germany from 1950 to 1953. He was honored to be given the job of jeep driver for officers in the Army.
Lester was a member of St. Henry's Catholic Church, a 50-year member of Watertown American Legion Post No. 189, Quad County AARP Chapter 4745 and the Quarter Century Club at Lindberg Hevi-Duty. He had also been a member of the Watertown Auxiliary Police for more than 21 years.
Lester enjoyed traveling and camping all over the United States for the past 35 years, dancing, polka music, small engine repair and attending Army reunions across the country. He also enjoyed over-the-road trucking with his good friend, Wally Fischer, and mowing with his John Deere. Fixing anything broken was a challenge to him that he'd rise to complete.  Lester loved his John Deere collection.
The family would like to thank Dr. J. Couser and the MICU staff at St. Mary's Hospital in Madison, Dr. Fred Gremmels and the staff of Watertown Memorial Hospital.
SURVIVORS:
Wife                    Esther of Watertown
Daughter                Janet (Steve) Buckingham of Madison
Son                     David (Kim) of Waukesha
Three grandchildren     Bradley and Nicholas Buckingham
and Christopher Else
Brother                 Harold (Anna) Else of Woodruff
Sister-in-law           Barbara Else of Fort Atkinson
PRECEDED IN DEATH:
8-year-old son          Daniel, on Jan. 31, 1972
Parents
Brothers                David and Franklin.