website  watertownhistory.org
    ebook  History of Watertown, Wisconsin
David DaWalt
1937 - 2010
<![if !vml]>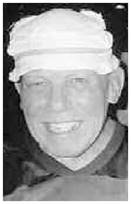 <![endif]>
David "Clipper" B. DaWalt, 72, of Watertown, passed away Wednesday evening, Aug. 4, 2010, at Watertown Regional Medical Center.
A Mass of Christian burial will be held on Monday at 11 a.m. at St. Henry Catholic Church in Watertown with Father Brian Wilk officiating.  Burial with military graveside honors will be in St. Henry Catholic Cemetery in Watertown.
In lieu of flowers, memorials may be directed to the family or the charity of one's choice.
A visitation will be held on Sunday at the Hafemeister Funeral Home in Watertown from 3 to 7 p.m. with a rosary service at 7 p.m.  Relatives and friends may also call to pay their respects at the church on Monday from 10 a.m. until the time of the service.
David Barry DaWalt was born in Madison on Dec. 25, 1937, son of John and Eleanore (Milligan) DaWalt.  On Sept. 10, 1960, he married the former Patricia Fendt at St. Henry Catholic Church in Watertown.
Dave was a 1955 graduate of Lake Mills High School and served his country in the United States Navy on the USS Cimarron in the Pacific Ocean.
He owned and operated numerous barbershops in Watertown and Lebanon. He had also been employed at Silgan in Oconomowoc for many years.
Dave was a member of St. Henry Catholic Church.  He was also a member of the Watertown Veterans of Foreign Wars Post No. 3709 and the Watertown American Legion Post No. 189.  He loved spending time with his family and friends.  He also enjoyed barbering, fishing, hunting, playing cards and telling stories.
Dave is survived by his wife, Pat DaWalt of Watertown; seven children, his daughters, Laura (Kent) Zautner, Beth (Calvin) Rose, Shell (Rick) McFarland, Tricia (Thad) Voigt and Pam (Doug) Kohls, all of Watertown, and his sons, John (Mandy) DaWalt of Irmo, S.C., and Chris (Jenny) DaWalt of Watertown; his 13 grandchildren, Kyle (fiancee, Emily Cahoon) McFarland, Abby Zautner, Ben Zautner, David McFarland, Paige Rose, Clint Rose, Genelle McFarland, Karli Kohls, Faron Voigt, Carson DaWalt, Alek Voigt, Grayson DaWalt and Kyanna Kohls. Also surviving are a sister, Joan (Gene) Beckett of Watertown; a brother, Bill (Treash) DaWalt of Salem, Ark.; nieces, nephews, other relatives and friends.
He was preceded in death by his parents and a brother, Richard DaWalt.
Dave was a wonderful man who will be deeply missed by his family and everyone who knew him.

History of Watertown, Wisconsin