website† watertownhistory.org
††† ebook† History of Watertown, Wisconsin
Loretta T. Cerney
1929 - 2016
<![if !vml]>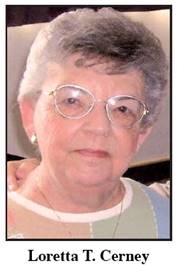 <![endif]>
Loretta T. Cerney, 86, of Watertown, passed away on Thursday, April 7, 2016, at Marquardt Health Center.
Loretta Theresa Jurgella was born on July 15, 1929, in Stevens Point, the daughter of Julius and Mary (Kolinski) Jurgella.† On July 1, 1950, she married Richard Cerney at St. Peterís Catholic Church in Stevens Point.
Loretta was an Avon consultant for 32 years in the Watertown area.
Loretta was a member of St. Henry Catholic Church and sang in the choir for many years. She was a member of the Watertown Country Club for 25 years and an avid bridge player.
Loretta is survived by her husband, Richard; their children Susan (Jerry) Thering and Scott Cerney; three grandchildren, nieces, nephews, other relatives and friends.
She is preceded in death by a son, Charles Cerney; her parents and her sister Florence Sauter.
A memorial Mass will be held Wednesday at 11 a.m. at St. Henry Catholic Church with Father Patrick Wendler celebrating.† Family burial will be held in the parish cemetery.† Family and friends may call at the church on Wednesday from 10-11 a.m.† Memorials may be made to St. Henry Catholic Church or Marquardt Health Center.
Schmutzler-Vick Funeral Home and Cremation Service 500 Welsh Road Watertown

History of Watertown, Wisconsin