website  watertownhistory.org
    ebook  History of Watertown, Wisconsin
Dean Buss
1965 - 2007
<![if !vml]>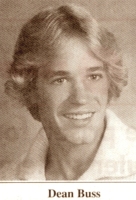 <![endif]>
Dean A. Buss, 42, of Watertown, died Monday morning, Aug., 13, 2007, due to injuries sustained from a motor vehicle accident.
A memorial service will be held Friday at 7 p.m. at the Hafemeister Funeral Home in Watertown, with Father Bernard Rott of St. Henry Catholic Church officiating.
Family and friends may call to pay their respects at the funeral home on Friday from until the time of the service.
Dean was born May 30, 1965, in Watertown, son of Kenneth and Phyllis (Poppert) Buss.
Dean was a 1983 graduate of Watertown High School. He had been employed at Fisher-Barton Co. in Watertown for 20 years and was currently employed as a landscaper. He enjoyed hunting, fishing and boating.
Dean is survived by his parents, Kenneth and Phyllis Buss of Watertown; his children, Courtney Buss, Cody Buss, Kierstyn Buss, and Hannah Buss, and the mother of his children and former wife, Kim Hilgendorf-Buss, all of Watertown; a stepdaughter, Megan Kuehl, of Watertown; his brother, Craig Buss of Watertown; a niece, Crystal Buss of Watertown; former wife, Debbie Griffin of Watertown; aunts, uncles, other relatives and friends.
Hafemeister Funeral Home 611 E. Main St. Watertown
ADDED REFERENCE:
Dean A. Buss was a member of the 1979 eighth grade graduation class of St. Henry's.
Dean Buss passed away 08/13/07; his body was cremated 08/17/07; his cremains were interred 08/31/07 in Oak Hill Cemetery.

History of Watertown, Wisconsin