website† watertownhistory.org
††† ebook† History of Watertown, Wisconsin
Arlene C. Buske
1924-2014
<![if !vml]>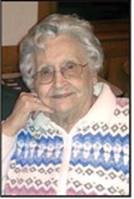 <![endif]>
Arlene C. Buske, age 90, Watertown, passed away on Wednesday, Aug. 12, 2014, at her home.
A Mass of Christian burial will be held Monday at 11 a.m. at St. Henry Catholic Church with Father Scott Jablonski celebrating. †Burial will be in the parish cemetery. †Family and friends may call on Sunday from 2-5 p.m. at Schmutzler-Vick Funeral Home and Cremation Service and on Monday at the church after 10 a.m. †Memorials to St. Henry Catholic School or Rainbow HospiceCare, would be appreciated. †Online condolences may be sent to svfuneralhome.com.
Arlene C. Hrobsky was born on Jan. 23, 1924, in Watertown, the daughter of Hubert and Margaret (Franke) Hrobsky. †On May 4, 1946, she married Lyle F. Buske at St. Henry Catholic Church. †He preceded her in death on Aug. 18, 1994.
Arlene had been employed at Bethesda Lutheran Communities. †She was a member of St. Henry Catholic Church, the Christian Motherís and Altar Confraternity and a former member of the Watertown Senior Center.
Arlene is survived by three daughters, Barbara (Robert) Eske, Mary (Al) Schott and Kathleen (Paul) Garity; three sons, Steven (Linda), Thomas (Robin Chouinard) and Robert (Brenda); 12 grandchildren, Jeff (Denice) Buske, Shelly (Dale) Hauser, Suzanne Buehler, Sarah (Greg Hinze) Eske, Krista (Ryan) Schuett, Rebekah (Brad) Vickroy, Kristen (Scott) Ferriss, Brandon Schott, Patrick Garity, Kasey Garity, Robert Buske and Brittany Buske; seven greatgrandchildren, Kristy Zimmerman, Brock Buske, Addison Hauser, Lexi Buehler, Logan Buehler, Eliana Schuett and Alex Schuett; and a great-great-grandson, Karter Zimmerman. She is also survived by a sister, Katherine (Arnold) Schumann; nieces, nephews, other relatives and friends.
Arlene is further preceded in death by her parents; two sisters, Evelyn (Charles) Rood and Dorothy (Clifford) Bohmsack, and a brother Harvey Hrobsky. †
Schmutzler-Vick Funeral Home and Cremation Service 500 Welsh Road Watertown

History of Watertown, Wisconsin