website  watertownhistory.org
    ebook  History of Watertown, Wisconsin
Leo Breunig
1907 – 1996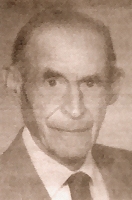 Leo S. Breunig, 89, 1412 Oconomowoc Ave, Watertown, died May 16, 1996, at Watertown Memorial Hospital.
Funeral services were held at St. Henry's Church with the Rev. Bernard Rott officiating.  Burial was in the parish cemetery.
Breunig was born February 17, 1907, in Watertown, son of Henry and Helen (Engelman) Breunig.  On August 10, 1946, he married the former Mary Lutovsky at St. Henry's. 
He had served in the United States Army during World War II in the European Theater, receiving the Purple Heart and the Bronze Star. 
He had been employed as a salesman for the Jaeger Baking Co from 1953 until retiring.  He was a member of St. Henry's, serving as a former lector, Catholic Knights, Watertown Disabled American Veterans, and a lifetime member of the Teamsters Union.
SURVIVORS:
Daughter    Mary (Peter) Strupp of Watertown,
Son         Richard (Sharon) of Miami, Fla.
Son         Leo of Evansville
Son         Robert  (Mary Beth)
Son         Edward
Son         Paul (Rebecca), all of Watertown.
PRECEDED IN DEATH:
Parents
Brother     Henry
Brother     Edward
Sister      Alma Rosebrook
Sister      Selma Meyer
Sister      Helen Hady
Sister      Agatha Meyer
Sister      Florence Potticary

History of Watertown, Wisconsin