website  watertownhistory.org
    ebook  History of Watertown, Wisconsin
Andrew Boyum
Cross-References:
Watertown Daily Times, 12 22 1944
Two brothers, Pfc. Harry Boyum and Pfc. Andrew Boyum, met recently in Germany and when the letter telling about their meeting was written Dec. 5 they were camping almost side by side.  The letter reached their mother, Mrs. Josephine Boyum, 310 Green Street, this week.  Previously both had been in Holland.
They happened to meet when one of the armies marched in where the other was located and they first saw each other in a parade review and later got together for a reunion.  They had also received their first Christmas boxes together and that has given them and their family here quite a thrill.
Another brother, Edward, is in the navy and in Hawaii.  He is a pharmacist's mate, second class.  He is serving under Lt. James E. Conley, husband of the former Lillian Brandt Quirk, daughter of Mr. and Mrs. Earl W. Quirk of this city.
No 3: Watertown Daily Times, 11 07 1945
<![if !vml]>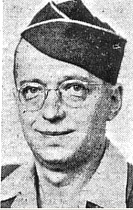 <![endif]>Andrew Boyum Escaped Sniper's
Bullet in France; Served 42 Months
Andrew Boyum, 310 Green Street, son of Mrs. Josephine Boyum, who served 18 months in Europe and who was among the Americans who survived the Battle of the Bulge, has been honorably discharged after 42 months of service with the army. He was in England, France, Holland, Belgium and Germany.
He said that of all the countries he was in he had the highest regard for the Belgian people. He has the American defense ribbon, the ETO ribbon, with four battle stars, bronze star, the combat infantryman's badge and the good conduct medal.
He said his narrowest escape was in France where he was fired on by a sniper hidden in a cathedral. Three snipers were brought out of the building after the attack.
1947
Married Rosemarie Klecker on July 8, 1947, at St. Henry's.
Wife, Rosemarie D. Boyum, 90, of Lake Mills, formerly of Watertown, died on Aug. 23, 2004, at Brook Gardens Assisted Living in Lake Mills following a brief illness. Funeral services were held at St. Henry's with the Rev. Bernard E. Rott officiating.  Burial was in St. Henry's Cemetery.
Veteran buried in church cemetery.  Listing of veteran interments in cemetery.
2005
02 27     CLYMAN — A fascinating collection of treasures is up for auction Saturday — one that experienced auctioneer Stan Jones said is unique, in part, for its considerable World War II and sports memorabilia.  Jones of Jones Auction Service of Clyman told the Daily Times this week that the estate of the late Andy Boyum of Watertown was meticulously collected and maintained, and with the passing of Boyum's wife recently, it is now being offered to the public.  "I was contacted by the Boyums' executor and we went over and did the boiler plate type things that come with our initial evaluation," Jones said.  "On a first visit to an estate, you rarely see all that's there.  But as we got things organized we began to realize this collection of about 400 items is something special."  Boyum served in the 7th Armored Division of the U.S. Army in World War II and was involved in a campaign from Belgium to Germany.  Along the way, he managed to collect Nazi-related articles, such as medals and a large red, white and black Swastika flag all in excellent condition that will be up for auction.  Jones said there are also letters of authorization stating that Boyum had permission to bring the items home.  There are personal letters and military uniforms, as well, that Boyum saved that will be part of Saturday's sale.   Online article:  Unique Collection to be Auctioned [Watertown Daily Times, 02 24 2005]

History of Watertown, Wisconsin