website  watertownhistory.org
    ebook  History of Watertown, Wisconsin
Rudolph Bohlman
1918 - 2006
<![if !vml]>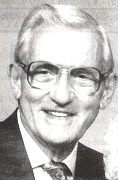 <![endif]>Rudolph Edward Bohlman passed away in his home February 2, 2007, at the age of 88. His last few years were spent at home in declining health in the loving care of his family with help from Rainbow Hospice and special caregiver Kris McGowan.
He is survived by three sons, Conrad, Roger "Rocky" (Bonnie), and Charles, all of Watertown; three daughters, Carol (Joel) Edwards of Watertown, Monica (Steve Smith) Bohlman of Phoenix, Ariz., and Debora (James "Max" Groehler) Bohlman of Watertown; 14 grandchildren; and six great-grandchildren.
He is further survived by a sister, Dorothy Schlueter of Beaver Dam, and brothers, Paul (Dorothy) Bohlman of Palentine, Ill., and Harvey (Ruth) Bohlman of Surprise, Ariz.
Rudy was born to Frank and Mary (Heist) Bohlmann on June 22, 1918. He was preceded in death by his wife, Margaret Lillian (Fendt) in 2003; a daughter, Nancy in 2004; and a brother, Arnold.
Rudy was born just west of Pipersville and spent his boyhood years peddling potatoes from his father's farm and fish that he had caught himself. He also hunted gophers and woodchucks for a bounty paid by the county. In this way he earned money to help his parents through the Great Depression. As a teenager he worked as a hired hand on several area farms. Eventually he moved to Milwaukee and then to Chicago for work until World War II started.
He spent four years in the U.S. Navy serving as a radio operator at various duty stations and aboard the USS Roxanne (AKA-37) (see below).
He returned to take Margaret Fendt as his bride on May 29, 1946. 
To Rudy and Marge, two things were important. There was God and there was family and that was abundantly clear throughout their lives together.
In time he would be owner/operator of a service station, a crane operator for a bridge builder, a mechanic for the Dairy Lane fleet of trucks, and a machine operator. He eventually retired from Eaton Corporation.
In his spare time he enjoyed bowling, golf and repairing bikes for St. Vincent de Paul. What those close to him will remember him best for is someone who enjoyed inventing and was really good at "fixing stuff." Rudy had an uncanny ability to build things and make things work using common items found in his basement. His family and the entire neighborhood remembers the two large fans (pre A/C) that he built using washing machine motors that sounded like an airplane ready for takeoff and could cool a house in 2 minutes flat. They also remember the heavy duty air compressor he built from scratch that he used to fill bicycle and car tires in his garage. He was a man in need of frequent reminders that people in their 80s should not be climbing on the root of their house to "fix things."
Rudy will be remembered fondly for a rich sense of humor and a willingness to help any deserving person who had the good fortune to be a part of his life.
Funeral services will be held on Tuesday at at St. Henry's Catholic Church with the Rev. Bernard E. Rott officiating.
Burial will be in the church cemetery.
Visitation will be held on Tuesday at until the time of service at the church. In lieu of flowers, memorials to St. Henry's Catholic Church or Rainbow Hospice would be appreciated.
The Pederson Funeral Home of Watertown is serving the family.
USS Roxane
(AKA-37: dp. 7,080; 1. 426'0"; b. 58'0"; dr. 16'0"; s. 16 k.
cpl. 303; a. 1 5", 8 40mm., 10 20mm.; cl. Artemis, T.
S4-SE2-BE1)
Roxane (AKA-37) was laid down 1 December 1944 by Walsh Kaiser Co., Ine., Providenee, R. I., launched 14 February 1945, sponsored by Mrs. Edwin H. Armstrong, acquired by the Navy from the Maritime Commission (MC Hull 1898) and commissioned at Boston 12 March1945, Comdr. Jamee Stone, USNR, in command.
Following shakedown off Boston Roxane loaded at Norfolk and transited the Panama Canai 24 April 1945. Arrivin~ Pearl Harbor 11 May, she proceeded on to Eniwetok and Saipan before putting in to San Francisco 12 July. Departing San Francisco 25 July, she proceeded by way of Pearl Harbor Eniwetok, and Ulithi, to Manila where she arrived 3 September. She operated on cargo runs between various Philippine ports until arriving Japan 23 October 1945.
On 1 November 1945, Roxane reported to ComServPac for "Magic-Carpet" duty at Matsyama, and proceeded via Okinawa and arrived San Francisco with returning veterans 22 November. Departing again 11 December, she picked UD additional troops at Yokosuka and Sasebo and reached Seattle 7 February.
Roxane reported for disposal to Commander 13th Naval District 18 March1946, decommissioned 5 June 1946, was transferred to the Maritime Commission 29 June 1946, and was struck from the Navy list 3 July 1946.

History of Watertown, Wisconsin