website  watertownhistory.org
    ebook  History of Watertown, Wisconsin
Edward Bliefernicht
1917 - 1974
Edward H. Bliefernicht, 56, 226 Arcade Avenue, died September 20, 1974, at the Veterans Administration Hospital in Madison.
Funeral services were held at St. Henry's Church with Father Raymond Dunn officiating.  Interment was in the parish cemetery.
Listing of veteran interments at cemetery
Bliefernicht was born in the town of Shields Oct. 16, 1917, son of the late Mr. and Mrs. Edward J. Bliefernicht. He was the agent for the Exxon Oil Company.
On Nov. 22, 1941, he married the former Cora Marie Korth ,at St. Joseph's Catholic Church in Richwood. He was the commander of the VFW Post in Richwood, and was a member of the County Council Commanders of Dodge and Columbia County, the Eitoocpup Tent No. 24 of Jefferson and Dodge County, and the Pitterle-Beaudoin American Legion of Watertown.
He was also a member of the Watertown Conversation Club, held a membership in the Past Post Commanders of the VFW Club, the Holy Name Society of St. Henry's, and a life member of the VFW Post 7852 of Richwood.
SURVIVORS:
Wife              Cora
Son               Charles, Watertown
Son               Mark, Watertown
Son               Roger, Watertown
Sister            Mrs. Paul (Helen) Plasil, Watertown
Sister            Mrs. Merlin (Mary) Riedl, Watertown
PRECEDED IN DEATH:
Preceded in death by one, brother, one daughter and one son.
Two Watertown Corporals are 30 Miles Apart
Watertown Daily Times, 07 11 1945

<![if !vml]>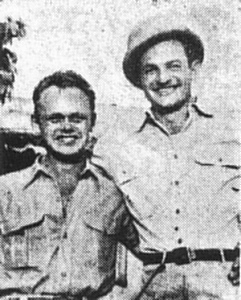 <![endif]>Shown here are Cpl. Edward H. Bliefernicht and Cpl. Kenneth Fendt who met recently in India where both are stationed.
The snapshot was sent to friends by Cpl. Bliefernicht who wrote that "Delly Schmidt, my next door neighbor back in Watertown, went home after 28 months over here ... I sure hated to see him go ... Then who should move in some 30 miles from me, but Kenny Fendt, another of my buddies from Watertown . . . It sure was swell seeing him after I looked him up . . . It was the first time we saw each other since January, 1943 when we went into the army together. Kenny is with an air depot group and I have been with a bomb squadron since I've been overseas. I'm with the medical dispensary here."
The taller of the two men in the picture is Cpl. Bliefernicht. He is married to Miss Cora Korth of Waterloo. She and their son now reside in Waterloo where she has taken a war-time job, with the Mid-States Shoe Co. plant. It's been 15 months since he has seen his family.
Cpl. Bliefernicht said that both he and Fendt are in the best of health. The weather has been extremely hot, however, but not too hot for India. The temperature has been around 130 degrees, he said.
He also said in his letter that he recently had a letter from "My old boss in Watertown, Ed King," and requests that his best wishes be conveyed to all his old friends and buddies in and around Watertown. And Cpl. Fendt joins him in that.

History of Watertown, Wisconsin