website  watertownhistory.org
    ebook  History of Watertown, Wisconsin
Raymond Berg Sr
1916 - 2008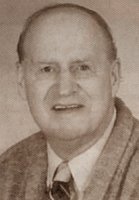 Raymond J. Berg, 92, of Watertown, passed away Wednesday morning, April 30, 2008, at the Golden Living Center in Watertown.
A Mass of Christian burial will be held on Saturday at 11 a.m. at St. Henry Catholic Church in Watertown with the Rev. Brian Wilk officiating. Burial will be in the St. Henry Catholic Cemetery with military graveside rites being conducted by the Watertown VFW Post #3709.
Relatives and friends may come to pay their respects at the church on Saturday from 9 a.m. until the time of the Mass.
Memorials may be directed to St. Henry Catholic Church or the First Baptist Church, both in Watertown.
Raymond Joseph Berg was born in Lebanon on Feb. 16, 1916, son of Joseph and Esther (Uecker) Berg. At the age of 28, he married Thomasina Watson in Belfast, Northern Ireland, on June 17, 1944.
He was a 1935 graduate of the Watertown Senior High School. He was employed by Chicago & Northwestern Railroad for 33 years, retiring in 1982. In addition, he was a licensed real estate broker for many years, working initially out of his home, then through Neitzel Realty in Watertown, with an active status up until four years ago.
Raymond was a proud lifelong member of St. Henry Catholic parish in Watertown and a life member of the Watertown Veterans of Foreign Wars Post #3709.
Raymond faithfully served his community, his county and his country during his 92 years of life. He served as an alderman on the Watertown City Council for six years, from 1985 to 1991, and as a member of the Jefferson County Board of Supervisors for a period of four years, ending in 2002.
He served his country as a second class aviation machinist mate in the United States Navy during World War II and was stationed in Northern Ireland, home of the biggest shipyards in the world at that time.
Raymond will be remembered as a tirelessly devoted father, grandfather and husband, who actively worked for the betterment of his community and society at large, through public service and civic participation.
Whether it was marching for civil rights with Father Groppi in the 1960s, working for a political candidate he believed in or expressing his opinion in the Voice of the People, he felt the obligation to influence current events to the extent possible.
Raymond will be remembered for what he stood for and how he lived his life. He was a man of strong principle and incredible determination. In so doing, he has left a legacy for years to come through his contributions and the children, grandchildren and friends he impacted on.
Survivors include his wife, Thomasina Berg of Watertown; his children, Raymond G. (Darlene) Berg of East Troy, Kathleen (Gary) Schweitzer, Dennis (Cheryl) Berg, Kenneth (Sheri) Berg and Thomas (Lisa) Berg, all of Watertown; 15 grandchildren, Tammy (Duane) Cherek, Bryan (Lori) Berg, Terry Berg, Colleen (Rodrigo) de Mendoza, Shannon (Lisa) Schweitzer, Erica Schweitzer, Michael Schweitzer, Hannah and Molly Berg, Chelsey and Jenny Berg, Heather (Dan) Battist, Aleasha (Ken) Bozych, Tom (Melissa) Berg and Stacy Berg; 14 great-grandchildren; a brother, Roman Berg of Johnson Creek; other relatives and friends.
He was preceded in death by his parents; his sister, Marie Berg; and his brother, John Berg.
The family would like to thank Golden Living Center for the excellent care they provided to Raymond during his three months of care. It was evident to all of us that these direct care workers, nurses and other staff members were focused on providing the best care possible for Raymond. For this, we are very thankful and appreciative.
Hafemeister Funeral Home 611 E. Main St. Watertown

History of Watertown, Wisconsin