website  watertownhistory.org
    ebook  History of Watertown, Wisconsin
James A. Becker
1924 - 2009
<![if !vml]>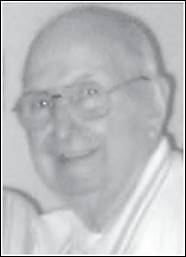 <![endif]>
James "Jim" A. Becker, 85, of Watertown, passed away Tuesday, July 28, 2009, at Marquardt Memorial Manor after battling pancreatic cancer for six months.
James Alois Becker was born in Milwaukee on March 2, 1924, the son of Charles and Cecilia (Fink) Becker.  He married the former Dorothy Kocinski at St. Casimir's Catholic Church in Milwaukee on June 1, 1946.
Jim served in the United States Army during World War II with the 44th Division, 156th Field Artillery.  He had been employed as a steel saw operator at Seitz Manufacturing and Triple S Steel in Milwaukee.  He also worked at Sentry Equipment Corp. in Oconomowoc, where he retired in March of 1990.
Jim was an active member of St. Henry Catholic Church, Catholic Knights, Knights of Columbus and Watertown American Legion Post No. 189.  He loved spending time with his family, had a great sense of humor and enjoyed life to the fullest.
Survivors include his wife, Dorothy Becker of Watertown; five children, Ron (Jan) Becker of Elk Grove Village, Ill., Bob (Jan Ellis) Becker of Zionsville, Ind., Laurie (Jim) Zimmerman of McFarland, Jeff Becker of Milwaukee and Judy Koeberl of Greendale; nine grandchildren; three great-grandchildren; a sister-in-law, Lucy Kocinski; nieces, nephews, cousins, other relatives and friends.
He was further preceded in death by his parents; two brothers, Al and Chuck Becker; a sister, Marge Schroeder; a daughter-in-law, Jan (Schopf) Becker; and a brother-in-law, Leonard Kocinski.
A Mass of Christian burial will be held Saturday at 11 a.m. at St. Henry Catholic Church in Watertown with Father Brian Wilk officiating.  Burial with military graveside rites being conducted by American Legion Post No. 189 will be in St. Henry Catholic Cemetery, Watertown.
Relatives and friends may call to pay their respects at St. Henry Catholic Church on Saturday from 9 a.m. until the time of the service.
The family would like to thank the entire staff of Marquardt Memorial Manor as well as the Marquardt hospice staff for their care and kindness to Jim.
Memorials would be appreciated to the family, St. Henry's Church or a charity of one's choice.
He will live in our hearts forever.
Hafemeister Funeral Home 611 E. Main St. Watertown

History of Watertown, Wisconsin